November 17, 2022 By Ross Stovall, Chief Corporate Systems Architect, CloudWorks4All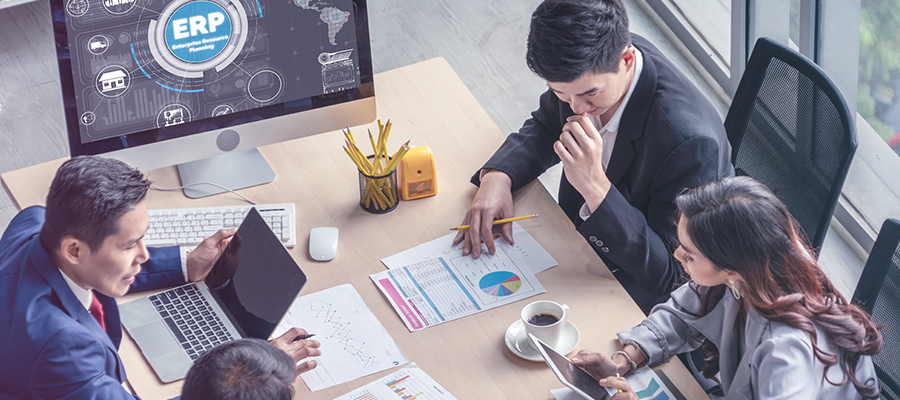 Enterprise resource planning (ERP) systems are the backbone of the essential software used to run today's corporations. Companies that require high quality, high reliability, or are in highly regulated industries such as medical devices, pharmaceuticals, aerospace, defense, and others, need excellent quality management. Most modern ERP systems contain elements of quality control (QC) and quality assurance (QA). However, when evaluating corporate software needs, it is common for new companies to assume that the QC/QA functionality contained in ERP systems will be sufficient. While useful and valuable, the typical functionalities are not sufficient to meet all the requirements necessary in these types of industries. In such cases, a full-featured quality management system (QMS) that works hand in hand with the ERP system is called for.
QMS vs. ERP: Key Aspects and Functionalities
The quality functions in most ERP systems are generally focused on the transactional processes done to produce a product. They include things like:
Material and product movement records.
Receiving inspections for incoming material.
Automated and unplanned inspections during the production process.
Completed product final tests.
Supplier inspections and evaluations.
Many ERP systems allow users to build tests and inspections directly into the receiving, production, and warehousing operations. These inspections can be quite sophisticated and can include pre-determined sampling plans, appropriate acceptable quality levels (AQLs), as well as defect and statistical analyses. While important and useful, these functionalities are not sufficient, however, to meet the full needs of a company producing high-quality and high-reliability products in regulated environments.
In addition to the transactional and planning processes found in ERP systems, companies need to implement other important processes and functions in order to have a truly comprehensive quality management system. Key aspects of a comprehensive quality management system should include:
Systematic Management of Production Quality Processes. This includes the responses to and the closures of Nonconformances, out-of-specification conditions, process and materials deviations, and the corrective actions/preventive actions (CAPAs) associated with them.
Management of Change Control. This should include a robust document management system as well as training management to effectively implement changes as they occur.
Design and Development Quality Processes. Quality requirements and risk management of new products should start during development and are required in many industries such as medical devices.
Management of Records. Traceability of parts and materials used, production parameters, and customer records can be crucial in certain industries. Records for the entire product life cycle can be regulatory requirements and are necessary for high product quality.
Audit Management and Easy Access to Quality Records. Being able to both audit manufacturing suppliers and respond to external auditors and regulators is crucial for highly regulated industries. A company's QA system must achieve the essential requirement of easily demonstrating its effectiveness to auditors and regulators with the important additional characteristic of being easy to set up and maintain.
Risk Management. Often overlooked, especially by early-stage companies, managing risks is important to meet governance requirements, assure the consistent quality of products, improve customer confidence, and establish a proactive culture of continuous improvement.
Benefits of a Modernized eQMS
The electronic quality management system (eQMS) applications available today can supply the critical pieces of a comprehensive quality management system not found in most ERP systems. Companies in the process of developing the architecture of their software systems should consider a dual backbone structure of both an ERP system and a QMS that supports the entire enterprise. For companies that truly emphasize high quality, a QMS that brings a corporate-wide quality focus is just as important as the enterprise-wide planning and financial focus of an ERP.
The Combined Power of a Dual QMS / ERP Backbone
Implementation of a dual backbone structure is relatively straightforward. The best QMS and ERP systems have application programming interfaces (APIs) that enable the two systems to talk to each other and exchange data. Connecting via APIs is not overly complicated and is usually done via middleware. The most important aspect, however, of designing the system and its architecture, is to carefully think through where the interfaces should be. Generally, there will be overlap in some of the functions of the two systems. Determining in which system to run the overlapping functions and to be the "system of record" is the first step.
Every company has different needs. Which application a function is performed in should be based on a company's specific business model and where it makes the most sense to perform an operation. This also holds true for other business software that may be appropriate for a particular company to link into their QMS and ERP systems. These additional, more industry-specific systems can include software such as:
Manufacturing execution systems (MES)
Laboratory information management systems (LIMS).
Equipment maintenance software
Customer relationship management (CRM) systems.
No matter where a quality function is implemented, it's important to pull as much, if not all, the data, into the QMS that is needed for auditing, traceability, and regulatory needs. Having all records in one place makes responding to auditing and traceability needs much simpler and easier to accomplish when the records are needed. As applicable to the business, this data should contain items such as batch records, important production data, customer shipments and returns, materials traceability, training records, design and development history files, CAPAs, risk reduction records, and more.
Conclusion
Companies that place the utmost importance on quality and are contemplating the step up to best-in-class enterprise software should architect their overall system structure with a dual ERP/QMS backbone. Doing so can assure a company-wide focus on quality and position the organization to easily meet their industry's regulatory and governance needs.