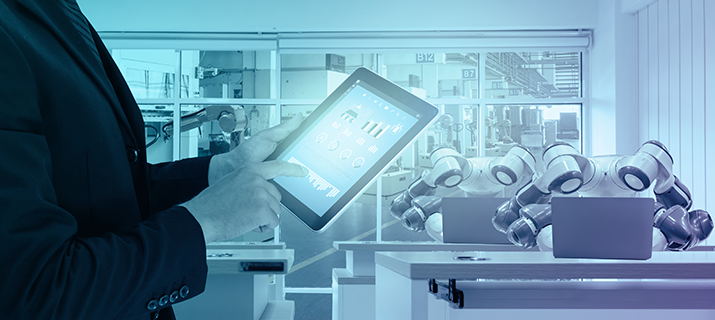 No industry has been more profoundly impacted by Industry 4.0 — the era marked by enhanced digitization and the increased connectivity of smart technologies — than the life sciences. Smarter, more connected technologies are revolutionizing the way medical devices and pharmaceutical products are developed, manufactured, and used. In the continuing evolution of Industry 4.0, quality management is playing an increasingly vital role for companies throughout the industry. The merging of new technologies and capabilities with traditional methods of managing quality is culminating in a new Quality 4.0 approach that is fundamentally changing quality management systems as we know them.
The greatest challenge facing quality leaders in the modern era is knowing the best way to invest in and apply the advanced digital tools that are the hallmarks of Quality 4.0, such as:
Artificial intelligence (AI) and machine learning (ML), a subset of AI.
Blockchain.
Cloud technologies.
Connected and edge devices.
Data lakes and "big data."
Getting a Quality 4.0 initiative off the ground requires thoughtful planning, a sound strategy, and a solid understanding of the aspects of the movement that will be the best suited to and most beneficial for your organization. You can start by familiarizing decision-makers in your organization with the following three characteristics shared by Quality 4.0 initiatives that have proven to innovate and streamline quality management.
#1: Target Areas Where Quality 4.0 Technologies Will Benefit Performance the Most
Planning is always the first step in any Quality 4.0 initiative. Begin by identifying potential use cases for advanced analytics, apps, or other technologies that enhance connectivity. Evaluating specific areas where improvement is desired against the different types of tools available will help you set realistic expectations and make it easier to plot a roadmap for success.
#2: Focus on the Core Components of Quality 4.0 Most Relevant to Your Needs
The industrial transformation advisory firm LNS Research has identified 11 essential components or "axes" of Quality 4.0 1. The way each element is leveraged and synchronized with the other Quality 4.0 axes will vary according to your organization's unique circumstances and business requirements. Each of the following essential components plays a vital role in any Quality 4.0 initiative and should be evaluated and incorporated into use cases based on your company's current position and desired future state.
1. Data:
The biggest obstacle preventing companies from achieving their quality objectives is bad metrics. A Quality 4.0 initiative based on a data-driven quality model is more likely to yield the real-time quality intelligence and predictive insights you need to succeed in the modern era.
2. Analytics:
Good decision-making is dependent on accurate, up-to-date, and easily reportable quality information. Modern analytics tools like MasterControl Insights propel Quality 4.0 initiatives by providing up-to-the-minute data updates, interactive dashboards, and powerful data exploration and sharing capabilities.
3. Connectivity:
A Quality 4.0 initiative can bridge gaps that exist between information technologies and operational technologies. Advanced integration tools are making it possible to seamlessly link enterprise systems and ensure that data stays synchronized between them.
4. Collaboration:
Process automation has taken quality management leaps and bounds beyond what was achievable with paper-based, manual processes, and Quality 4.0 tools are poised to advance it even further. Innovations like blockchain can be used to enhance the detection of defects, boost data security, and effectively aggregate quality assurance and supply chain information.
According to LNS Research, only 21% of companies have implemented a digital quality management system (QMS) solution. Of those, nearly half (41%) of them implemented standalone QMS solutions, despite system connectivity being a primary goal of Quality 4.0. A QMS solution that fully integrates quality processes and keeps data connected across the life cycle of your products will vastly improve your ability to eliminate errors and reduce delays.
6. Compliance:
The proliferation of Quality 4.0 technologies is creating more opportunities to automate and streamline compliance activities. An assessment of the systems and strategies you currently use to maintain compliance can help you identify areas that could be improved with modern tools and approaches.
7. Scalability:
Your systems' inability to scale data, users, devices, and analytics may be hindering your quality improvement efforts. It's worth the effort to investigate the various ways cloud computing, data lakes, and other Quality 4.0 tools could potentially enhance scalability.
8. Leadership:
Without executive buy-in, every Quality 4.0 initiative falls flat. Quality leaders can build a business case with the C-suite by clearly defining the links between quality objectives and corporate strategic objectives.
9. Competency:
Quality 4.0 presents new opportunities to improve the baseline competency of personnel and transfer specialized knowledge between individuals. New technologies can optimize quality-related competency activities like employee training and the management of training records.
10. App Development:
Wearables and augmented reality (AR) and virtual reality (VR) devices are opening new avenues for Quality 4.0 advancements. Take the time to evaluate the potential impact these and other interactive devices might have on your quality activities now and in the future.
11. Culture:
Survey results published in the Harvard Business Review showed that 60% of employees report that they work in an environment that lacks a culture of quality 2. The connectivity afforded by Quality 4.0 presents an opportunity to rectify that problem. Focus on adopting modern tools that give all employees ownership of quality and bolster your organization's overall quality culture.
#3: Align Quality 4.0 Objectives With Digital Transformation Goals
Since the purpose of a Quality 4.0 initiative is to enhance connectivity and the culture of quality throughout the enterprise, it must be aligned with the organization's overall digital transformation strategy. Some organizations' digital transformations may be less mature than desired or insufficient to meet the demands of a Quality 4.0 initiative. In these cases, Quality 4.0 endeavors present a tremendous opportunity to realign and refocus quality and corporate digitization strategies and demonstrate how new technologies can benefit and synergize them both.
In the long run, Quality 4.0 is about much more than a broad Industry 4.0 quality management ideology. It's about being prepared for the future by equipping your organization with advanced, connected, and purpose-built tools that can help you conduct quality processes more efficiently and with greater visibility so you can achieve your business goals faster.
---
References:
"At the Intersection of Smart Manufacturing and Quality 4.0 in Life Sciences: Industrial Transformation Strategy and Use Cases," by Dan Jacob, LNS Research, June 4, 2019.
"Creating a Culture of Quality," by Ashwin Srinivasan and Bryan Kurey, Harvard Business Review, April 2014.
---