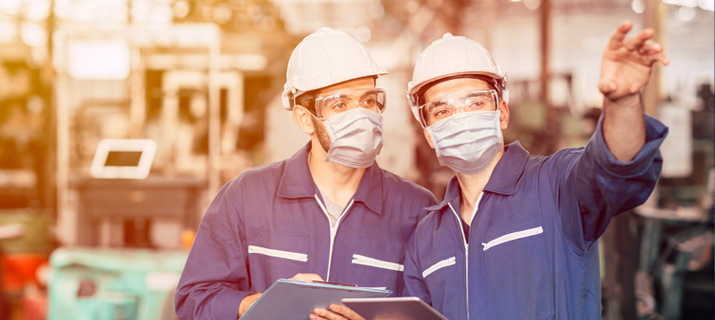 Manufacturing is a largely in-person industry. So, when COVID-19 hit and many people couldn't come into work, manufacturing suffered. It quickly became apparent that manufacturers armed with digital systems were better positioned to survive. Even so, market changes meant some manufacturers were hit with higher demand for their products. In other cases, demand plummeted, forcing manufacturers to turn to other products to keep their manufacturing lines busy.
To help companies scale and pivot, MasterControl teamed up with MedTech Association and MASSMedic to produce a 10-part webinar series, "Achieving Speed and Scalability in Life Sciences Manufacturing." Each video is about 20 minutes, and you can watch the series for quick tips on how to adjust to the changes in manufacturing you're experiencing. Both manufacturers new to life sciences and seasoned veterans will benefit from this series. If you don't have time to watch the whole series right now, below are three key takeaways to give you a preview.
The Importance of Going Digital
It shouldn't surprise anyone that a big focus of the series is the importance of digitizing. Every episode touches on this point, and the presenters are quick to point out the benefits of moving to a digital system. Paper has a strong foothold in the manufacturing industry, so much so that some companies identifying as paperless actually still have some paper.
As Principal Product Management Director Terrance Holbrook described, "One [company] here locally, [has] a fully automated manufacturing process. It's beautiful. Every dispensary is controlled. All the temperatures are controlled. Inputs and outputs are all controlled. All digitally, all autonomously. And hanging by every piece of machinery is a clipboard with an inspection sheet on it."
A common theme of the series is the persistence of paper, especially on the manufacturing floor. This setup has been holding companies back, before and during the COVID-19 pandemic. Trying to adjust to changing demand on paper is difficult, especially when it comes to scaling. It's only when processes across departments are connected on the same system that companies can make changes rapidly without increasing errors.
Culture of Quality
While digitizing does wonders for companies, it can't do everything. Without a culture of quality, companies won't see the benefits.
MasterControl SVP of Strategic Growth Brian Curran explained, "It's time to upgrade [to a] culture of quality. And what we mean by that is … you have to go beyond just the documentation. It is important to get everything documented but it's more important to get the culture of quality spread throughout the organization." Building quality into a product requires a specific attitude that needs to be shared by everyone.
Going along with this is the idea that quality isn't a department. It should be part of everyone's job.
"Everyone owns quality," according to Validation Product Manager Erin Wright. "And it doesn't have to be in your title for you to have a concern about it." Everyone should be concerned about it throughout the production process. This is part of quality at the source. From the very beginning of the product development life cycle, quality should be involved. If the quality department doesn't have to spend its time trying to retroactively instill quality into a product, they can use their time more productively for continuous improvement.
Better Accessibility
Once companies embrace a culture of quality and improve their processes, they still need to be able to demonstrate that. Documentation plays a central role in the life sciences. And if employees can't access that documentation, it's as if it doesn't exist. Being able to access that information goes back to digitizing.
Product Owner Manager Dave Latimer pointed out that digitizing everything "reduces frustration, it reduces hang-ups trying to find information. If everything is in one location, everything's transparent, everything is connecting together, and you can see the data much more clearly and efficiently."
That's helpful during an audit, but it also helps employees in their day-to-day work. However, this only works if everything is digitized. If only the quality management system (QMS) is digitized, that doesn't help an operator who needs a specification or drawing for a task. In that case, a quality professional "has to take that, print it out [and] take it to the floor because [the operators] have no way to interact with a digital system," according to Terrance. Only a fully connected system brings that information to the manufacturing floor.
Conclusion
In some parts of the world, the spread of COVID-19 has lessened, and life is returning to normal. Even if your manufacturing environment is also getting back to normal, there's plenty to be learned from this experience. Pre-pandemic, this situation would've been seen as unlikely and drastic. Since it's become a reality, now is the time to prepare for possible future disruptions. And in 20-minute video clips, our experts explain how to accomplish all this while reinforcing industry best practices.
Watching the "Achieving Speed and Scalability in Life Sciences Manufacturing" series will give you a good idea of where to start. You can watch the entire series here.
---