Maximizing Manufacturing Efficiency and Quality With Digital Work Instructions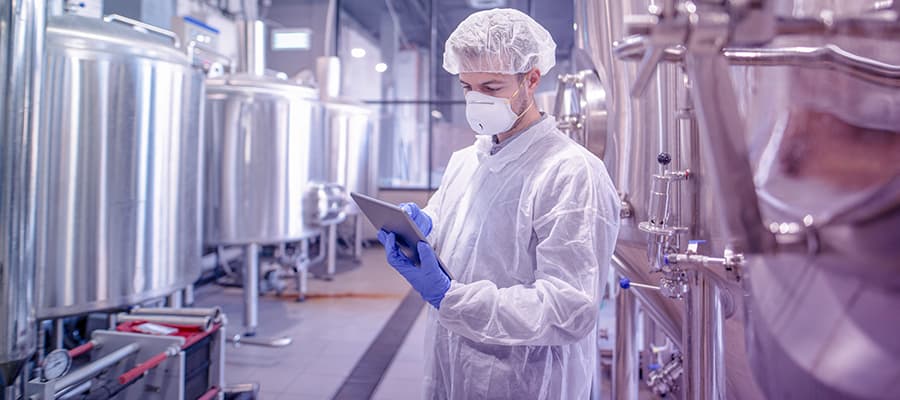 In modern life sciences manufacturing, staying competitive – let alone surviving – requires companies to deliver high-quality products quickly. That's why manufacturing trailblazers are constantly seeking new ways to improve operational efficiency and ensure product quality. One of the key advancements that has revolutionized life sciences manufacturing is the integration of digital work instructions into the production process. This blog post examines the significance of digital work instructions for manufacturing, the increasingly important role of manufacturing work instruction software, and how these modern solutions fit into the broader manufacturing execution system (MES).
Yesterday's Manufacturing Work Instructions vs. Tomorrow's
Traditionally, manufacturing work instructions have been paper-based documents that provide step-by-step guidance to workers on the factory floor. These documents are often static, difficult to update, and prone to human error. As technology has advanced and competition has intensified, manufacturers have recognized a need for a more dynamic and efficient solution. Enter digital work instructions for manufacturing.
These fully digitized documents guide workers through the various manufacturing processes they are responsible for conducting. Digital work instructions for manufacturing can include text, images, videos, and even augmented reality (AR) elements. Since they incorporate the same types of digital files and applications we're all used to working with every day, they provide a more interactive and user-friendly experience. This technology is transforming the way manufacturing operations are conducted, offering numerous benefits to both manufacturers and their employees on the shop floor.
Manufacturing work instruction software is at the core of the digital work instruction revolution. Modern, purpose-built software is enabling manufacturers to seamlessly create, distribute, and more effectively manage digital work instructions. Here's how it enhances efficiency in the overall manufacturing process:
Real-Time Updates:

Unlike traditional paper instructions, digital work instruction software allows for real-time updates. This means that when a change is made to a process, it can be instantly reflected in the digital work instructions for manufacturing. This ensures that workers always have access to the most current and accurate information.

Improved Accessibility:

Workers can access digital work instructions on various devices such as tablets, smartphones, or even wearable devices like AR glasses. This accessibility ensures that instructions are readily available wherever and whenever they are needed on the factory floor.

Clear and interactive instructions reduce the likelihood of errors and rework. This leads to higher product quality, lower production costs, and less scrap.

Enhanced Training:

Work instruction software simplifies manufacturing training processes for new employees. They can quickly grasp manufacturing processes and become productive members of the team. Plus, digitized records make tracking employee training statuses easier to manage for training coordinators.

Interactive Guidance:

With multimedia elements like photo images, videos, and AR overlays, digital work instructions for manufacturing provide more interactive guidance than you can get from paper documents. They help workers visualize complex processes more easily and follow step-by-step instructions with greater precision.
Integrating Digital Work Instructions Into MES
Manufacturing execution systems play a crucial role in modern manufacturing operations. A modern digital MES solution can enhance your capacity to connect, monitor, and control the various aspects of your production processes. An MES with robust integration capabilities can serve as a bridge between essential enterprise systems, such as enterprise resource planning (ERP) systems, and the shop floor, ensuring seamless communication and data exchange. So, where do digital work instructions fit into the bigger MES picture?
The Future of Manufacturing Efficiency and Quality
As manufacturing evolves, the role of digital work instructions and manufacturing work instruction software is becoming increasingly vital. Manufacturers who embrace these technologies will reap the benefits of improved efficiency, reduced errors, enhanced quality, and better communication and collaboration across their organizations.
The integration of digital work instructions into manufacturing processes, supported by manufacturing work instruction software and modern MES solutions, marks a significant leap forward in the pursuit of efficiency and quality. Using these beneficial technologies is no longer just an option – it's a necessity for life sciences manufacturers looking to thrive in an ever-competitive global market. The future of manufacturing is digital, and those who adapt, innovate, and embrace digital work instructions will have an edge over competitors who rely on paper-based documents and processes.
To learn how you can build fully digital work instructions that seamlessly connect with your data and manufacturing processes, visit MasterControl's digital work instructions for manufacturing page.