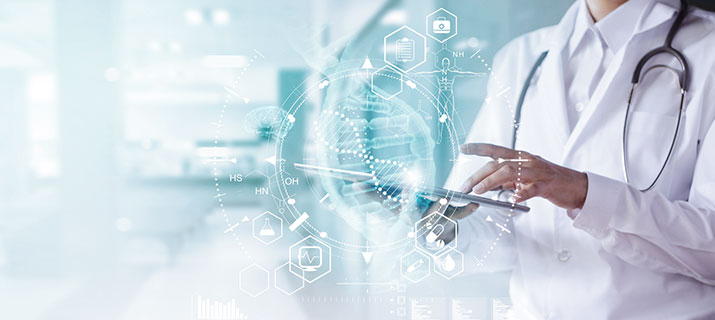 New technologies are enabling innovative advances in precision medicine, or personalized medicine. They are also generating vast amounts of data – across clinical studies, laboratories, patients, products, and more. As more enormous, disparate data sets are created, organizations need to be able to track, store, and analyze the information quickly and accurately.
To fulfill the promise of precision medicine, organizations must harness all that data through greater connectivity and interoperability, increased visibility, and more data-driven insights.
"As in other domains of data science, the availability of digital data is key to precision medicine," according to a Deloitte report on cognitive health care.1 "Medical devices, mobile phones, activity trackers, and health sensors generate data continuously. Electronic medical records (EMRs) accumulate patient data over a lifetime. The availability of all these data makes it possible — albeit still difficult — to personalize diagnoses and treatment plans to the individual level, and necessitates new data aggregation, storage, and modeling approaches."
Technical barriers and obstacles around costs remain, but traditional challenges of interoperability between systems and siloed data collection, storage, and analysis are slowly being overcome.⁸ Platform dynamics are allowing organizations to digitally integrate existing systems and data sources across operations, functions, and sites with minimal interruption.
For example, in precision medicine, where manufacturers are often producing a unique product that is a batch of one, a cloud-based platform can deliver applications that connect enterprise quality, shop floor production, and supplier networks relevant to the product, its batch, and its end user. Integrated digital tools can capture many different data types from various fragmented siloes, maintain all that data in one location for analysis, and help get the life-improving product to the person who needs it fast.
To that end, leveraging digitally connected platforms and systems can create an integrated, closed-loop ecosystem beyond just manufacturers' production and quality data, to include patients, regulators, diagnostic companies, health care professionals, and more.
3 Practical Strategies for Harnessing Data
As health care data proliferates in volume and scale, life sciences organizations in the field of personalized medicine should consider a few practical steps for applying digitization to take control of – and advantage of – the data:
#1: Connect data sources and inputs. Platforms are enabling industry leaders to exert greater control, even as the number of data inputs in personalized medicine increases and the level of analysis becomes more sophisticated. Considering the criticality of speed in personalized medicine, platforms' abilities to unify applications and connect data within a common architecture and database are becoming indispensable.
#2: Prioritize actionable intelligence. If data is connected but can't be interpreted and made actionable due to poor data integrity or the data being unstructured, it offers little value to speak of. Better control, analysis, and interpretation of data with digital connectivity can help personalized medicine organizations better understand their processes, product, and customers' needs, ultimately translating complex outputs into actionable insights.
#3: Leverage predictive insights. Machine learning is becoming more reliable in detecting and analyzing patterns in data and efficiently contextualizing data. As a means of handling large volumes of rapidly changing data, machine learning can be used to detect patterns in data, such as a drug's effects on populations or individuals, and for combining product and patient data across disparate data sources.
Conclusion
In a survey of health care data executives, 76% said improving patient experiences is the most important aspect of data integration, while 50% said they believe increased workflow efficiency is a top trend driving improved data integration.2 As industry leaders focus on connecting digital systems, data, and insights, the result will be more fluid collaboration, accurate data management, and improved insights across their organization, health systems, and value chain – ultimately enabling more competitive operations and improved patient outcomes.
---
Resources:
"Cognitive Health Care in 2027," by Tom Davenport, Deloitte, September 2017.
"Untangling Clinical Data Integration," by Andrea Brückner, Martin F. Brunner, Karl Kugler, Kyle Janak, and Josef El-Rayes, Accenture, July 2019.
---