August 8, 2023 by Sanjiv S. Gupta, CEO/Co-Founder, Irepa International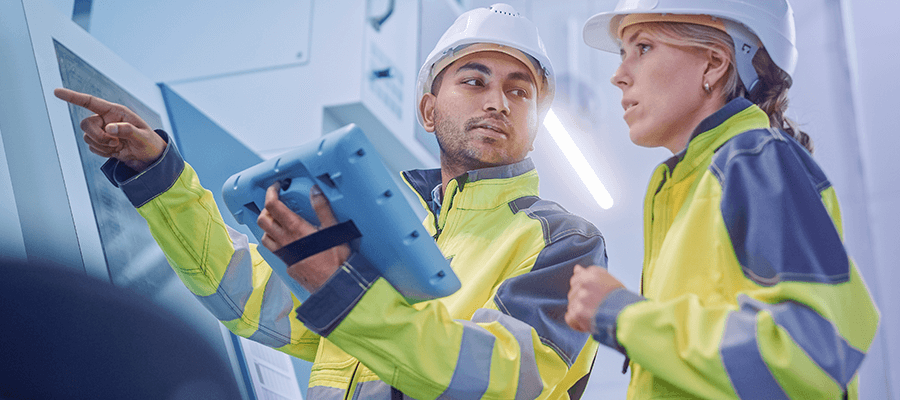 The global clean technology industry is ready to develop and deploy production-ready green, blue, gray, black/brown, turquoise, and yellow hydrogen (H2) digital manufacturing solutions and facilities to meet the vast growing demands required for 1) charging of H2 fuel cells – based electric vehicles, heavy equipment, trains, buses, generators, and energy storage, 2) commercial and industrial processes, 3) power generation, 4) ammonia production, methanol, and oil refining, and 5) building heating, etc.
Today, H2 generation is implemented mainly using three distinct processes: thermo-chemical, electrolytic, and biochemical. In order to manufacture any consumable tangible finished product (be it a gas, a liquid, or a solid) with operational efficiency and effectiveness, productivity, reliability, health and safety, information technology and operational technology (IT/OT) cybersecurity, transparency, accountability and regulatory compliance, and sustainability, a system integrator (SI) must unify the enterprise with manufacturing. A genuine manufacturing integration deployment requires the tying of level 0 (manufacturing processes and equipment), level 1 and 2 (industrial control and supervision devices and systems), level 3 (QMS, MES, WMS, MMS), level 4 (PLM, ERP, HRM, SCM, S&OP, CRM, MRP, TPS, ESS, APS, MIS, DSS, DRP) - production and supply chain management and planning (manufacturing and enterprise operations)), and level 5 (third-party services – SaaS, PaaS, IaaS, NaaS, etc.) into a single closed-loop product life cycle platform utilizing the revised six-layer Purdue Model from the European Union Agency for Network and Information Security (ENISA). This Purdue architecture models OT and IT into the six functional levels with level 4 and 5 comprising of the enterprise zone and level 0-3 comprising of the manufacturing zone. Both zones are separated by the DMZ. The DMZ includes AV/WSUS/Patch Server, Historian, and Remote Access/Jump Server.
Please refer to the figure below.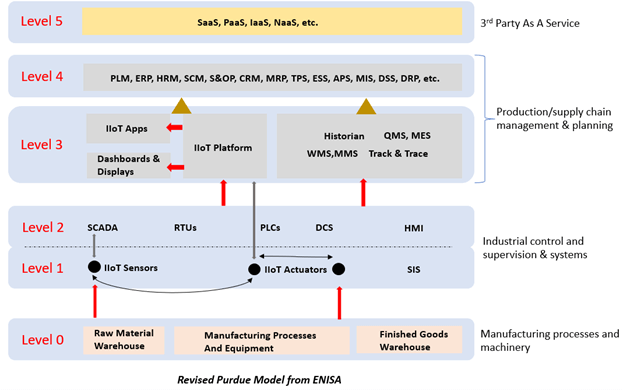 The manufacturing integration framework for this unified platform must be value engineered using: edge Internet of Things (IoT) sensors (level 1), edge IoT actuators (level 2), edge IoT gateways (level 3), and both wired/wireless connectivity with the cloud in order to garner data-driven actionable analytics & insights for actuation, alerts and alarms, physical security and cybersecurity, health & safety, and predictive & prescriptive maintenance of all processes, hardware, software and human-to-human and human-to-machine systems. With the revised Purdue model, IIoT is able to collect, measure, analyze, and manage all data from the manufacturing and control processes of level 0-2, and manage the communication of all manufacturing data into the enterprise zone which includes cloud/internet service -based production software (QMS, MES, WMS, MMS, etc.), supply chain management and planning software (PLM, ERP, CRM, etc.) and AAS software (SaaS, PaaS, etc.).
The focus of a quality management system (QMS) is to create an enterprise-wide system which manages quality in conformance with the manufacturer's standards, whereas the focus of a manufacturing execution system (MES) is to implement systems which provide real-time reporting and production data. QMS being process focused, while MES being factory floor focused, together establish a clearer visualization of the overall performance of the manufacturing facility.
The distributed manufacturing plants (since there is usually more than one plant for manufacturing of a given product) are accurately represented by a unified digital twin platform which incorporates the entire stack of the Purdue Model. In this way, all the hardware, software, and services from level 0 to level 5 are mimicked using emulation, and the real-world environment behavior and configuration is created virtually using simulation. In the context of digital manufacturing solutions, emulation allows for debugging, whereas simulation allows for modeling, analysis, and study.
A system integrator/solution provider who can act as the general/prime contractor (serving as the single voice visionary for projects of such immense size, risk and complexity) is tasked with bringing several key disparate technology partners (AAS software providers, production/supply chain management and planning software providers, IIoT/ICS solution providers, connectivity providers, cleantech energy providers, data center providers, etc.) together and enabling them to collaborate (connected humans) and integrate (humans, software, hardware, solutions and services) together in order to deploy autonomous automated distributed H2 production facilities with minimal unplanned/planned downtimes (mostly caused by intentional/non-intentional human errors and machine errors) and maximum operational efficiency, effectiveness, and productivity. This is the key to a successful manufacturing integration.