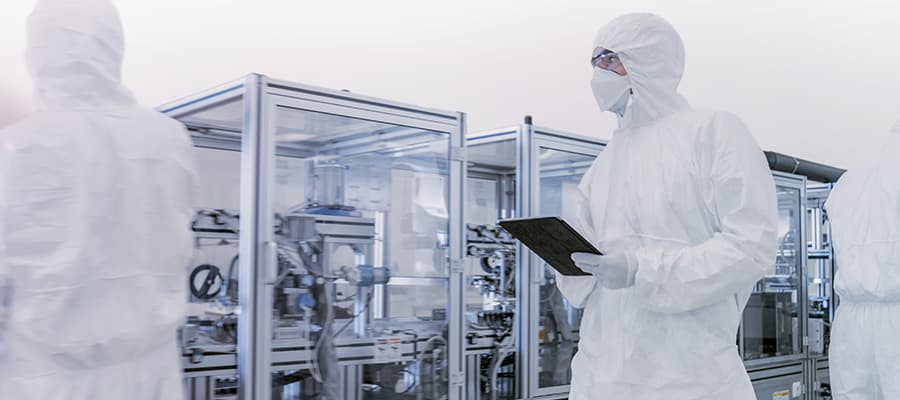 The global COVID-19 pandemic forced many manufacturers to re-examine how they manage their supply chains. Amid large-scale shocks to supply and demand, manufacturers and their supplier partners must balance speed with quality, without putting their own employees at risk or adding significant costs. As supply demands increase and processes accelerate, it is critical that a supplier's materials, parts, and processes, including substitutions and changes, meet the manufacturer's requirements.
During a global health crisis like the COVID-19 pandemic, quality is more important than ever. As suppliers feel added pressure to ensure continuity of parts that go into lifesaving products, manufacturers must ensure their supply chain partners maintain high quality standards while quickly delivering a greater number of lifesaving products.
Recognizing and addressing quality problems before they spread requires visibility into a supplier's processes. Visibility into supplier quality is possible only if manufacturers work with their supply chain partners, communicating and collaborating to ensure the highest level of quality. Implementing a digital supplier management software solution is a sure way to increase visibility into supplier quality.
Manufacturer-supplier partnerships rely on personal relationships between people and, therefore, must be built on communication, collaboration, and transparency. This is true even during the best of times. With the added layer of complexity and urgency in the supply chain due to large-scale disruptions like a global pandemic, manufacturers must forge stronger partnerships with their suppliers. Manufacturers can look to digital transformation of manufacturing processes to create real-time visibility between suppliers and identify constraints.
Ensuring a healthy supplier relationship and safety in supply often means visiting suppliers on site and conducting inspections and audits on site. During a global pandemic, how do you do that while keeping employees safe? Implementing digital supplier management tools in your quality and manufacturing processes is the answer.
"The COVID-19 pandemic has shown the many different ways business can continue to effectively communicate and manage within a remote working environment, which many companies are likely to leverage going forward," according to the World Economic Forum. "Indeed, those operations with stronger digital infrastructure have fared better in the COVID-19 pandemic than those without."
The pandemic was an opportunity for manufacturers – albeit an unfortunate one – to advance their digital transformation in manufacturing and streamline supplier processes like audits and inspections without exposing employees or vendors to the virus or incurring unnecessary costs. Leveraging digital supplier management tools can help manufacturers eliminate unnecessary travel related to audits or inspections, removing the travel-related risks to employees and vendors.
For example, digital, automated supplier quality and manufacturing management systems offer some key benefits during times of necessary remote work:
Streamlined supplier audits.

A digital supplier quality management system lets you maintain all supplier audit information, including approval status and analytics reports, in a single place. It can enable hassle-free scheduling of audits and planning of recurring audit-related activities, as well as allow actions to be raised and directly tracked from responses/observations. (See related: "Remote Audits Reignite Regulated Companies and Supply Chains")

Streamlined supplier qualifications.

A digital supplier management solution lets you unify complex supplier qualification processes based on risk and gain real-time status and clear insight into the extensive qualification process. Stakeholders can better manage all qualification processes and documents using checklists, direct supplier communication capture, document creation, workflows and risk-based or time-based notifications for evaluation.

Streamlined supplier corrective action requests (SCARs).

A digital solution lets you automate all tasks pertaining to SCARs, including routing, notification, follow-up, escalation and approval. It can automatically guide stakeholders toward the necessary decision points, involve appropriate personnel – even involve vendors directly in the internal process – and ensure the process and its results are repeatable and measurable.

Guests enabled access without going on site.

A digital system allows you to invite suppliers to participate in tasks (in the system) relevant to them, providing a secure, online collaboration space and restricted access to suppliers for collaboration. It lets suppliers review and offer edits against a specification, contract, quality agreement, etc. With a digital supplier management system, you can electronically send scheduled reports and project task assignments to suppliers and other external parties.
Conclusion
The major COVID-19 impacts are behind us, however, organizations must continue their path of digital transformation in manufacturing and be able to adapt to future supply chain instability that could exist from a number of external factors. This means revising policies, updating processes, and leveraging digital supplier management tools – not in response to COVID-19, but in preparation to protect the long-term health of the company, customers, personnel, and supply chain partners.
To learn more about how to advance your digital transformation and build supply chain resiliency, read the research report, "The State of Digital Maturity in Pharma and Medtech Manufacturing."