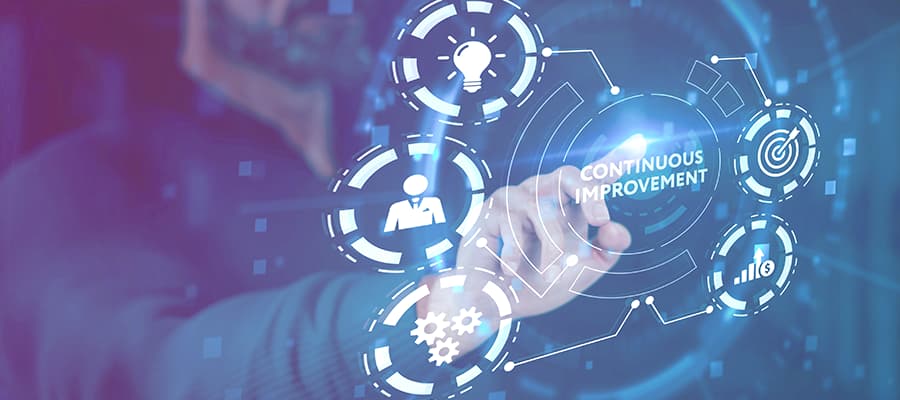 As the economic climate becomes more challenging, the pressure to reduce costs while improving medical device quality increases. Continuous improvement is a cost-effective way to ensure that medical device quality processes remain consistent while also reducing costs and improving efficiency. In this post, we will explore the importance of continuous improvement in medical devices and some thoughts on maintaining product quality in a challenging economic climate.
The Importance of Continuous Improvement
Maintaining quality control in medical device production is essential for ensuring the safety and efficacy of products.
Continuous improvement ensures that manufacturers are continually improving their processes, responding quickly to customer requirements adapting to new regulations, and providing safe, effective medical devices. As the economic climate becomes increasingly challenging, it is even more important to ensure that medical device quality processes remain robust. By applying continuous improvement principles, medical device manufacturers can mitigate risks while also minimizing costs and time to market.
Utilizing data within your electronic quality management system (eQMS) and process mapping tools helps medical device manufacturers evaluate current processes and find areas for improvement. This analysis enables medical device manufacturers to identify potential nonconformities before they become major problems. It is also useful in reducing errors, defects, or delays in production.
Ultimately, regular maintenance and evaluation of medical device quality processes and systems help companies minimize risk while maintaining high standards of quality assurance across all areas of production.
Challenges to Continuous Improvement in Medical Devices
Medical devices are complex products that must meet stringent regulations and be of high quality. As such, maintaining continuous improvement is a crucial component of quality assurance in the industry. However, in this current economic climate, there are several challenges that companies are facing when attempting to achieve continuous improvement.
With external price pressures, the unfortunate reality is that resources may be impacted within a business. While the individual impact on people's lives is immeasurable, the exit of an employee with years of experience and tribal knowledge of your product should not be understated by businesses. Additionally, the wider impact on the team that remains could have a detrimental impact on the quality of your product. If change management is not done correctly, medical device quality improvement suffers, morale may plummet, and a culture of "quiet quitting" may cascade through a quality department and production lines.
In addition to resource cuts, training is a natural go-to position when looking at cost reduction within a business. is a major challenge for quality and development managers to attempt to justify the costs associated with training employees on the latest safety standards and medical device regulations.
These training challenges can lead to issues such as insufficient resources to update and maintain equipment or even a failure to properly train staff on best practices for manufacturing quality devices.
Overcoming Quality Challenges
To meet these challenges, there are several approaches that organizations can employ.
First, it is important to cultivate and try and maintain an organizational culture that encourages continuous improvement. By making process improvement a priority, organizations can ensure that the focus remains on improving the quality of medical devices over time. Creating incentives for employees who strive to improve product quality may also help motivate them to stay on top of any changes that may need to be implemented.
Second, having a strong management team with the skills and knowledge necessary to promote quality improvement is key. Such individuals should be trained in the latest techniques and methods for achieving process excellence in medical device quality process improvement. Having a team with a deep understanding of continuous improvement can help identify areas that need improvement and come up with innovative solutions and ultimately cost savings for a business.
Finally, an organization can benefit from the robust use of its eQMS to monitor its medical device quality process. An eQMS is an invaluable tool for any organization seeking to maintain continuous improvement. It allows for complete visibility into all aspects of the quality system and process, including product design, manufacturing processes, supply chain management, and customer satisfaction surveys. This visibility allows organizations to uncover weaknesses in their manufacturing process and quality system, enabling them to rectify them quickly before they become major issues.