December 7, 2022 By Dave Katz, Co-Founder, Intuizi, Inc.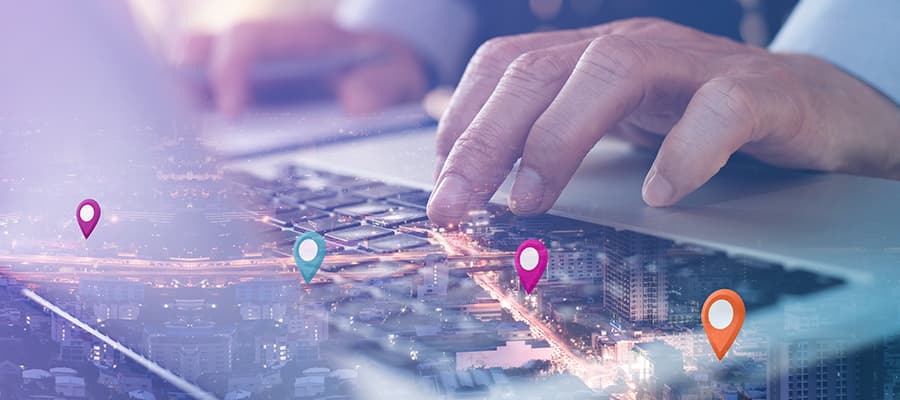 Geospatial location data and the quality data management systems required to work with such data are the keys to unlocking the door to potential gains in life sciences companies' regulatory compliance and marketing efforts. Use of such data previously required enormous amounts of time, money, data, and processing power. Today, while those four factors are still true, there are companies you can partner with to take the pain out of each. Doing so enables you to reap the rewards without taking the risks – which are particularly substantial on the regulatory compliance side – so you can understand consumer mobility, use it to enhance your marketing, and avoid the costs and pitfalls you'd previously have had to navigate.
Why Use Geospatial Location Data?
Over the last 25 years, digital marketing has gone from being a novelty to an expectation for most brands. In the mid '90s, before search advertising, banner ads were unsophisticated and little more than online billboards. We've subsequently gone through various fads, trends, and innovations, ensuring digital marketing budgets can deliver amazing return on investment (ROI). But it's an incredibly competitive market, and it's vital for marketers to use every tool in their armory to ensure that the right ad is seen by the right person in the right place at the right time – otherwise the whole endeavor becomes a minefield.
Whether you run search, display, email, short message service (SMS), social, native, connected TV, digital out-of-home, or myriad other online (or offline) marketing channels, geospatial location data helps you better understand cohorts of audiences that you should (or should not) target. Geospatial location data enables you to understand, identify, and target devices without knowing who owns them (thus staying the right side of an ever-evolving privacy-law landscape) and even, potentially, whether or not they subsequently visit specific locations where they might be exposed to your ads.
In an industry so obsessed with ROI, ensuring that you can identify audience cohorts based on where they go, how often they go there, whether they interact with your competitors, and even whether they are already known to you from any of your own first-party mobile data, is a vital additional tool that you can't afford to ignore.
The Difference Between Location-Based Marketing 1.0 and 2.0
Initially, location-based marketing was crude, involving "geo-fencing" specific locations and targeting ads to devices in those areas. The theory was that if you want to advertise burgers, you should target people in/near to burger restaurants. But if they're already in a burger restaurant, it's probably too late to persuade them to buy a burger! If they're at McDonalds, they're unlikely to leave and go to Burger King instead. And if they are near the restaurant but not inside, how likely are they to buy a burger on a whim? Either they were already going to get one or they're uninterested and simply passing nearby. While there is something in the theory that location is an indicator of "propensity to purchase," the original tools were too crude to make a tangible difference.
Today you can identify devices that regularly visit burger restaurants over time. You can distinguish between those that visit once, three times, or 10 times and ascertain brand loyalty (or disloyalty). What if you could segment devices that visit three or more times a week and determine which ones are more likely to go at lunch versus dinner? Now you know who to serve an ad to – and when – not just because they are outside and near a restaurant at lunchtime, but because they are likely to visit based on previous visitation at a specific time. You can even overlay your own data to better understand whether to send an ad for a meal deal, a single burger, or another product that you know they like!
Worth Bearing in Mind
Quality data management systems facilitate alignment with health and life sciences regulatory compliance requirements to ensure that a business that would otherwise find it tough to maintain compliance stays the right side of the law.
The best regulatory compliance software comes with a strong set of proprietary data sets and sources and puts consumer privacy first at all times. By only processing data that is anonymized at source, quality data management systems ensure that no individual devices can be identified, and that you always stay the right side of the various privacy laws.
Benefits
Observing customer journeys before a product launch helps brands better understand what segments will react in a more desirable outcome. Understanding new competitor entrants into a market allows the brand to better adjust to rapid changes to market conditions and to redeploy capital in advance as markets or consumer behavior change prior to a product launch.
Geospatial data aids revenue modeling, site selection, and competitive intelligence pre-product launch. Such data helps you understand what people want to buy, the shops and services they frequent, and how often they visit such locations. Major corporations turn to such data to help solve corporate decisions before making large investments. This helps product teams make better decisions prior to product launch and even understand visitation patterns of device cohorts that have been exposed to ad messages. Did ad-exposed audiences later turn up in the places that your products can be bought?
Wrap Up
Real-time location systems (RTLS), including regulatory compliance software and Internet of Things (IoT) investments, assist companies in the life sciences R&D sector in myriad ways – marketing being just one. Pharma marketers use quality data management systems and digital media to target relevant customers over time and assess the impact of such marketing. The consumer's comprehension of the brand is deepened by messaging cadence, which also aids in advancing their requests to health care providers. If your objective is to enhance treatment results by fostering communication between the patient and the health care provider, you should be exploring how geospatial location data can help you – and marketing is just the first of many use cases.