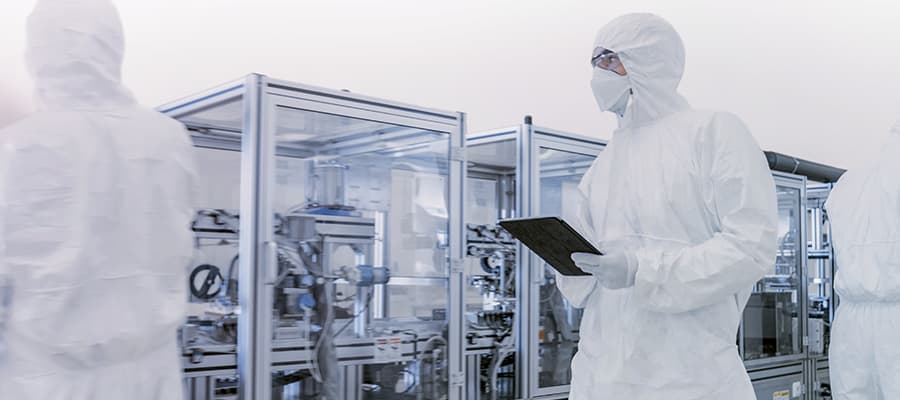 Digital transformation efforts are accelerating in a variety of manufacturing areas, with upwards of 73% of recently surveyed companies saying they plan to increase their investment in smart factory technology, making a digital transformation in manufacturing in the near future. Yet even with advanced technology, critical gaps still remain, as revealed in MasterControl's recent "The State of Digital Maturity in Pharma and Medtech Manufacturing" research report.1
One such gap is between quality assurance and manufacturing operations, where the people on the production line still rely on paper production records. Despite the investments that manufacturers have made in core digitization and automation – whether enterprise resource planning (ERP), manufacturing execution systems (MES), or material requirements planning (MRP) – many producers stop short of digitizing their production processes by using electronic production records and other shop floor data collection efforts.
This digital gap has left life sciences manufacturers susceptible to data entry errors, long good manufacturing practice (GMP) review times, shipment delays, and other paper-based challenges that hinder them from achieving a real digital transformation in manufacturing.
Paper-Based Production Records: Quality Outside Production
Among manufacturers regulated by the U.S. Food and Drug Administration (FDA), manufacturing operations are followed by documentation every step of the way. Managing production documentation manually, with every step of the process completed by a person and on paper, often leads to inaccurate or missing information on the production record due to scribal errors. Cumulative human errors on a production record turn into poor data that has a ripple effect: the data advances through the production process, snowballing into deviations, downtime, cost overruns, product delays, and, of course, quality and compliance issues.
In fact, 23% of all unplanned manufacturing downtime is the result of user error. And over the last five years, the FDA cited poor manufacturing data integrity on almost 80% of warning letters.2,3
Manual, paper-based systems also limit the ability to track manufacturing changes, identify quality events, and take corrective action in real time. Time and money are wasted correcting paper records, retrieving information, and reviewing records. Quality testing and batch release accounts for up to 70% of manufacturing lead time, mainly due to manual processes, disconnected instruments, and non-standard paper-based documentation and control procedures.4
Manual data entry errors, remediation, and review, along with insufficient tracking capabilities, drive production costs up while reducing efficiency, throughput, and profits. These preventable problems result in shipping delays, wasted resources, and poor cash flow.
The shop floor is a critical, but often overlooked, opportunity to make quality proactive rather than reactive. Every operator, step, and output of the production process is a chance to establish quality and compliance – but only if operators have the tools to deliver quality at the source.
A fully connected, digital solution like MasterControl Manufacturing Excellence is the missing link, eliminating data entry errors and proactively tracking production data that affects quality.
For example, automated data integrity checks and error-proofing features reduce mismarks or missing information on production records, with automated real-time quality review at each step on the production line, to help ensure lots are right the first time. They can digitally authenticate user signatures and automate the review and traceability of edits. Essentially, manufacturing execution software enables manufacturers to validate production record processes in real time, dramatically reducing GMP review times.
After implementing MasterControl's Manufacturing Excellence solution, Wellington Foods has seen a 90%-100% decrease in common data input errors. The nutraceuticals contract manufacturer has also cut its review period of 10-15 days after production completes by 75%-80%.
Manufacturers using a digital system can ensure quality at every step of production, automatically assess risk, and launch quality events, such as nonconformance and deviations, directly from the production line without interruption. With electronic production records they can link their standard operating procedures (SOPs) and work instructions directly to production record phases, launch quality forms directly from the production record, and automatically launch training and enforce training compliance. In short, they can track manufacturing changes automatically, identify quality events, and take corrective action in real time.
For instance, after implementing MasterControl Manufacturing Excellence, cellular therapeutics pioneer Dendreon reduced document review and release time nearly 50%, while maintaining their impressive right-first-time of 99%.
A solution like MasterControl Manufacturing Excellence can close the digital gap and deliver significant productivity and quality improvements. By building quality assurance into the production process rather than outside or after it, manufacturers can enforce quality controls without slowing production.
For more statistics about where you stand with digitization in manufacturing in relation to your industry peers, see MasterControl's research report "The State of Digital Maturity in Pharma and Medtech Manufacturing."
---
References:
---