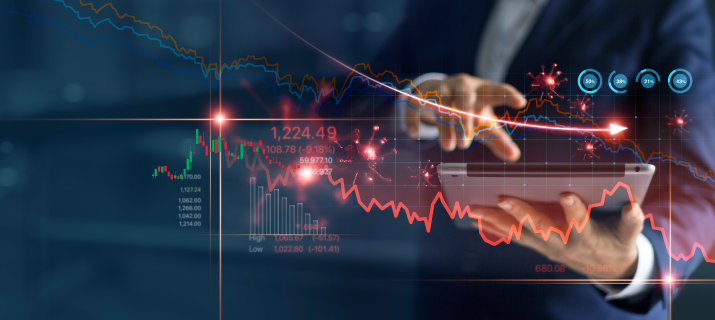 When times get tough financially, our natural tendency is to tighten the belt. We tend to put off investments in improvements and instead opt to play it safe, taking a conservative approach to weathering the economic storm. For businesses in the life sciences, that usually means freezing new hires, conserving cash, or delaying investments in modern, proven technologies that could streamline work and enhance efficiency and productivity.
Consider this, though: What if modernization is actually the key to surviving (and even thriving) during economic turmoil?
Deprioritizing Tech Investments: A Losing Strategy
The general definition of a recession is two consecutive quarters of negative gross domestic product (GDP). If that's the case, the U.S. officially entered a recession in the summer of 2022.1 These recession-like conditions are currently the biggest reason life sciences companies are choosing not to implement modern quality and production technologies that could help their businesses weather an economic downturn. We've all been there: Waiting to see when and how the economy turns. Watching to see what peers do to combat economic uncertainties.
Our gut instincts tell us that the wisest choice would be to remain fiscally conservative in recession conditions, when in fact advanced technology might be the very thing that saves our businesses. To overcome this "wait and see" mindset, we need to focus on the bottom-line benefits that are missed by those who delay and deprioritize the implementation of integrated quality management system (QMS) and modern manufacturing software solutions.
4 Reasons You Shouldn't Postpone Modernizing Production and Quality
1. Lower Long-Term Costs
Let's face it: There's no way we'll be paying less for software solutions in the future. In the latest CNBC Technology Executive Council survey, 57% of senior tech leaders reported that they're paying increasingly higher prices for software — and that's almost twice as many as those who say hardware prices are on the rise. 2 (source) As inflation continues to impact pricing, long-term costs will be lower for those who invest now in innovative quality and production management solutions. The sooner advanced digital tools are implemented, the more "inflation-proof" those investments become.
2. Greater Value Sooner
Just as there is a recognized cost of poor quality (COPQ), overall quality improvements positively contribute to the bottom line. The quality enhancements that come from QMS implementation drive value by providing productivity, accuracy, and efficiency benefits. And that value becomes even greater when the QMS is digitally integrated with a modern manufacturing execution system (MES), embedding quality assurance directly into production. The net outcome is a lower total spend for the organization.
It's a commonsense assumption that digitizing essential processes can help you work smarter and faster. But what is the real ROI you can expect from pairing an integrated quality management system with a modern manufacturing execution system? For starters, you'll get:
Deeper insights and real-time access to quality and production data.
Fewer errors.
Improved efficiency.
Better utilization of human capital and resources.
Process and workflow automation between systems.
3. Force Multiplication
The military science concept of force multiplication posits that a combination of factors can coalesce into a "force multiplier" that enables personnel the ability to accomplish greater feats than they would otherwise. We've all known these types of people or things that make everything and everyone around them better, stronger, or more capable. Maybe it's a player on your favorite sports team who leads the charge to victory. Maybe it's a leader in your organization who excels at improving morale and inspiring others to perform better. Just like these force multipliers you're familiar with, digitally integrated quality and production technologies multiply cost savings and exponentially boost organizational efficiency.
There's no better time than now to streamline, automate, and connect critical processes. When quality and manufacturing systems are digitized and harmonized, the force multiplication will:
Enable more accurate and effective data sharing.
Consolidate points of contact.
Further reduce cost.
4. Competitive Advantage
You may not think it's critical to stay on top of emerging technologies like artificial intelligence (AI), but do your competitors feel the same? Most life sciences organizations expect their competitors to make stronger moves toward connected and intelligent systems within the next five years. In fact, digital transformation spending is forecast to exceed $10 trillion worldwide during that span.3
For shrewd investors, down markets present opportunities. For them, a technology investment isn't risky if it opens a clear path to market share gains. On the other hand, delaying QMS implementation initiatives for short-term savings will likely have negative long-term consequences. By prioritizing technology upgrades and enhancements that drive operational efficiency, you can ensure that product quality will remain a competitive differentiator.
Our customers are living proof that digitally optimized quality and manufacturing processes provide a competitive edge. Their use cases have proven that a smarter, integrated quality management system can accelerate time to market by 30% or more.
The Solution
If your organization has not already done so, it's time to digitize your quality and manufacturing processes with advanced, proven tools.
But don't take my word for it. Ask MasterControl customers. They'll tell you how they have realized quantifiable improvements in key performance areas by taking swift action to digitize. Some examples of the higher performance metrics that MasterControl solutions have helped companies achieve include:
Northeast Scientific, a market leader in high-end peripheral vascular catheter remanufacturing, is now able to work on five 510(k) clearances concurrently each year. Prior to digitizing its processes with MasterControl's advanced tools, the remanufacturer only managed one per year. The transition from paper-based processes to a QMS that is integrated with a modern MES solution has dramatically boosted the company's overall efficiency, productivity, and speed to market.
UCSF Health has seen a 50% reduction in human errors since implementing MasterControl solutions. Plus, signature approvals for standard operating procedures (SOPs), work instructions, and policies that used to take weeks or months are now commonly approved in less than 24 hours.
Clinical trial data management firm Bioclinica has experienced a 50% reduction in employee training-related corrective actions/preventive actions (CAPAs).
Fagron, a global leader in compound pharmaceuticals and personalized medicine, is now saving 450 person-hours annually in the time required to prepare training materials and nearing its goal of 95% right-first-time output. And that's just the tip of the iceberg as the company extends the use of MasterControl Quality Excellence and Manufacturing Excellence solutions beyond the 13 global sites where they are currently employed.
Which of your company's process could be improved with the aid of digital manufacturing and quality management tools?
If your company's decision-makers are postponing tech investments until the recession is in our rear view and the economic waters aren't so choppy, you need to get them to see the longer-term vision. They can't afford to wait.
---
References:
"Recession Tracker: Are We In A Recession?" by Taylor Tepper, Forbes Advisor Investing, Sept. 9, 2022.
"The corporate spending that can't wait for a recession to pass," by Eric Rosenbaum, CNBC, June 28, 2022.
---