Pharma Manufacturers Are Modernizing to Improve Quality and Safety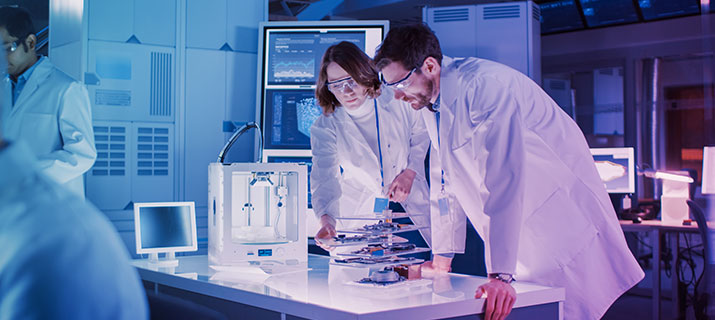 Not to belabor the point, but it's no secret that COVID-19 has and will continue to have a powerful impact on pharmaceutical manufacturing trends. Nevertheless, the pandemic has given us a chance to see what we're capable of accomplishing through collaboration and technology in overcoming the unique challenges we're facing today.
In the industrial sector, the global health crisis changed the way organizations operate. Compliance with social distancing and work-at-home mandates has not been optional — nor easy. In particular, the pharmaceutical industry has largely been under the microscope throughout the pandemic. Companies are already under constant pressure to develop and distribute medicinal products quickly, and the demand created by COVID-19 has compounded that.
At the same time, pharmaceutical manufacturers continue to face new and increasingly complex challenges to comply with good manufacturing practice (GMP) guidelines. Production errors and delays are creating an unacceptably high occurrence of product recalls and shortages. Collectively, the industry is endeavoring to rectify the issues – employing advanced technology is one of the more popular strategies.
In July 2021, Emergent BioSolutions faced scrutiny from regulatory officials following an error at its Baltimore facility that rendered millions of COVID-19 vaccine doses unusable. A prior inspection by the U.S. Food and Drug Administration (FDA) revealed several GMP manufacturing issues, including: 1
Sanitary problems.
Bad manufacturing practices.
Failure to train personnel to avoid cross-contamination of vaccines.
Speed, quality, and safety are essential in an industry where there is little to no margin for error. That said, pharmaceutical manufacturing organizations are making modernization a higher priority. A benefit of implementing digital technologies in pharma production environments is a reduction in the use and reliance on paper, which is at the core of many manufacturing errors. The paper records moving through a production environment are commonly at risk of:
Inaccurate data.
Illegible entries.
Missing signatures.
Lost or damaged records.
Digitizing batch records in pharma manufacturing is key to overcoming inefficiencies and delays. Solutions that automate batch records and other documentation processes will not allow incorrect, missing, or out-of-date entries.
Advanced Analytics Enhances Pharmaceutical Shop Floor Operations
Modernized technologies are redefining the parameters of what is possible in pharmaceutical product development. Technologies that used to be considered luxuries are now mainstream:
Artificial intelligence (AI) – Designed to simulate human intelligence processes. It can be used to identify root causes of delays, such as an issue with a batch production record.
Machine learning (ML) – Falls under the umbrella of AI. It is a computer model that learns from data, and then uses the information to make predictions or decisions. It's commonly used in every phase of drug development to accelerate the research process and reduce risks and expenditures in clinical trials.2
Natural language processing (NLP) – Companies are leveraging NLP to mine unstructured text-based documents and then convert that data into structured information that can be effectively analyzed and used in decision-making or for predictive modeling.3
More pharmaceutical companies are using these technologies as a tactical advantage in achieving compliance with manufacturing guidelines. By accurately identifying and mitigating new or potential compliance risks, quality is assured at each phase of product design, development, and manufacturing.
Conclusion
Today more than ever the pharmaceutical industry is evolving, and manufacturers need to evolve with it. The implementation of technologies and practices that improve efficiency, speed, and adaptability gives enterprises an edge in meeting the manufacturing guidelines for pharmaceuticals while elevating the entire industry. This approach requires proven, scalable digital manufacturing solutions to modernize pharmaceutical product innovation and development. Read the trend brief "Pharma Manufacturing's Digital Journey" to find out how pharma companies are modernizing to become more agile and efficient.
---
References:
"US Authorities Probing Emergent BioSolutions over COVID-19 Issues – Filing," Reuters, Jul. 30, 2021.
"Machine Learning in Drug Discovery: A Review," Suresh Dara, Swetha Dhamercherla, et al., PubMed Central (PMC), Aug. 11, 2021.
"What's Driving the Natural Language Processing Revolution in Pharma and Life Sciences?" Jane Reed, Drug Discovery & Development, Jun. 8, 2021.
---