Assess Your Digital Manufacturing Maturity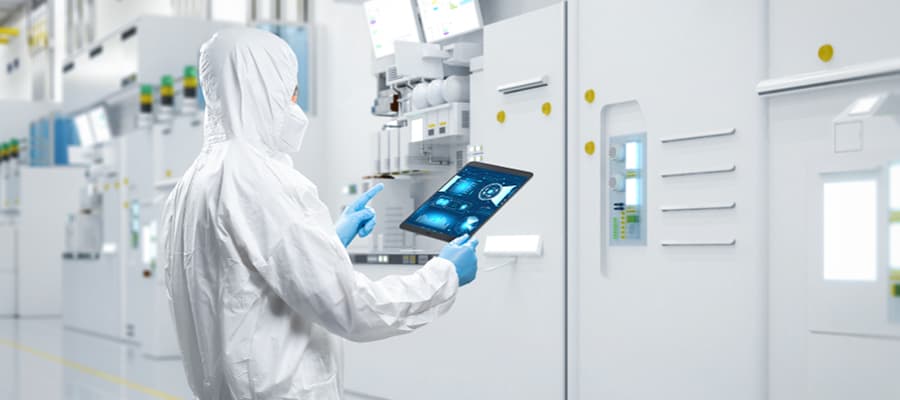 Why are 85% of your industry peers implementing manufacturing execution system software? To stay compliant and competitive in today's market, manufacturers of regulated products need to develop and deliver products to patients faster. In particular, companies in pharma and medtech are seeking better ways to meet this objective — it's evident that product development is far more difficult with disconnected, manual production management processes. For example, are any of the following activities part of your manufacturing routine?
Making hand-written entries and notes on paper reports and manually moving them through approval cycles and manufacturing phases.
Treating paper documents and reports before they can go into sterile areas.
Having to go through the process of exiting sterile areas to resolve data entry issues or reference a previous report.
Scanning all paper documents, regardless of length, to create electronic versions for inspectors.
Life sciences product manufacturers who avoid these tasks are able to improve efficiency and meet critical key performance indicators (KPIs). They achieve this by implementing modern, purpose-built digital manufacturing solutions. In addition to improving production efficiency, many pharma and medtech companies are recognizing the value of digitization to create connections between systems, machines, processes, departments, and people. This type of interconnectivity lets you easily transfer and access information between all your enterprise systems and external stakeholders and auditors in real time.
That said, how does your company compare with your industry competitors in using manufacturing execution system software? MasterControl recently conducted a study on the level of digitization pharma and medtech companies are deploying in their manufacturing operations. Among the results in the various categories, 63% of the participants are pursuing digital maturity specifically to gain a competitive advantage.
Are you unsure of how your manufacturing operations compare to those of your peers? Do you suspect that your operations are not as digitally mature as they should be? You can gauge how your company stacks up against your competitors by completing the interactive assessment that MasterControl created as part of its digital maturity study.
Upon completing the assessment, you will receive personalized results that will help you identify your company's level of digitization based on the following digital manufacturing maturity model:
Manual – Primarily paper-based.
Digital – Some processes digitized.
Connected – Manufacturing execution system (MES)/electronic batch record (EBR) on every line.
Intelligent – Real-time, integrated operational processes.
Where does digitization rank in your company's business strategy? Determine your current status in the digital maturity model by taking our digital maturity assessment. You will also learn:
How your manufacturing operations compare to those of your competitors.
Which areas of your operation will benefit the most from your digital manufacturing solutions.
The next critical steps on your path to digital maturity.