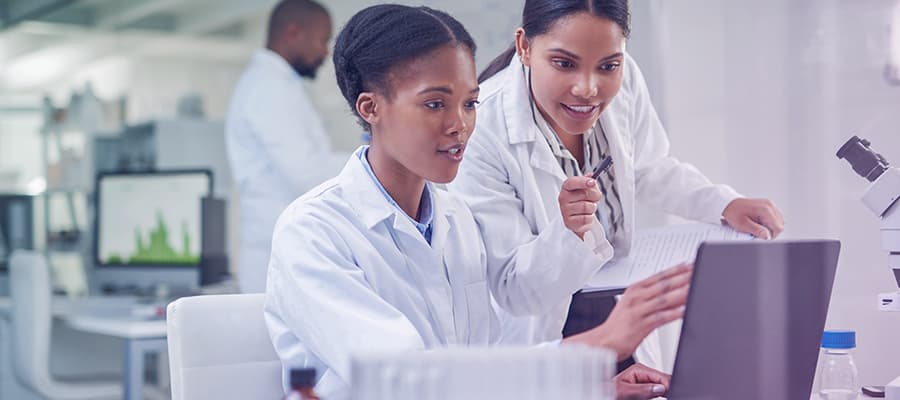 We have entered an era of connectivity, advanced analytics, and automation in manufacturing. More life sciences companies are recognizing the advantages of digital over paper-based manufacturing processes, so they're making digital transformation a high priority.
Imagine having a manufacturing environment that is connected across all business units and your company experiences:
Many manufacturers have made this vision a reality. However, getting to that level of digitization isn't without its share of obstacles. But the companies that have overcome the digitization hurdles are gaining considerable advantages from their manufacturing return on investment (ROI) after modernizing their manufacturing operations. For a deeper dive into making a digital transformation, the industry brief "4 Reasons to Adopt Digital Production Records Now" examines the obstacles companies have faced with a digital transformation and illustrates how they worked through them to make a successful transformation. The sections below highlight some of the common hurdles companies circumvented to digitize their operations.
#1: Technology Budget
Technology upgrades do require an upfront investment. Still, manufacturing is largely unpredictable and often beset by unplanned deviations, equipment issues, human errors, waste, and scrap. That said, the money going out the door for operational expenses far exceeds the amount companies invest to achieve operational excellence.
In its "2023 Global Life Sciences Outlook," report, Deloitte explores how the life sciences industry is investing for change. In this evolving period of competitiveness, life sciences companies are in search of new and compelling sources of value to expand their portfolios with next generation therapies. To achieve these objectives, the report cites that of the 60 life sciences industry executives surveyed, investment in innovation is a top priority:
In a manual, paper-based operation, a company would be hard-pressed to devote sufficient time to the pursuit of innovation when the staff is busily trudging through massive assortments of paper documents to locate errors, missing data, or information from previous reports.
Doing the math, companies that have adopted advanced technology and are using digital production records recognize that the time and cost saved from digitizing production tasks such as design specifications, standard operating procedures (SOPs), batch record reviews, etc. is a significant investment in the organization's business model and future growth.
#2: Time Commitment for an Upgrade
Companies in life sciences manufacturing have a lot of boxes to check in getting products developed, compliant, and manufactured for customers. They are already under tight timelines, so the notion of slowing down production to set up, configure, and assimilate new technology seems like a tall order.
A common technology tool companies use in their manufacturing operations is a manufacturing execution system (MES). Gartner's Magic Quadrant methodology defines an MES as a computerized system used to track and document the transformation of raw materials to finished goods.2
MES technology continues to evolve and expand in capabilities. Along with the numerous benefits, such as alleviating errors and improving efficiency, they are becoming more lightweight, robust, and economically feasible to deploy on all product lines and in all sites. Another upside is a modern MES is quick to deploy and designed to adapt to a company's operation and processes, meaning there is only a short amount of down time to complete an upgrade and transition to the new system.
The value of a digital transformation in manufacturing extends to all areas of the organization. Disconnected systems, such as enterprise resource planning (ERP), supervisory control and data acquisition (SCADA), laboratory information management system (LIMS), quality management system (QMS), etc., put business units at risk of having gaps, blind spots, and competing priorities between departments.
Deploying a modern MES and using digital production records on all product lines improves production metrics. But there is added value in fully unifying manufacturing by establishing real-time collaboration between all people, processes, and technology. In this scenario, there is more cross-functional collaboration, so departments can better align their priorities, stakeholders are more empowered, and people can make more informed decisions by having immediate access to current, relevant data.
According to a McKinsey & Company report, companies are recognizing impressive benefits and manufacturing ROI from implementing MES technology with advanced data and analytics capabilities. The report cites that companies are seeing:
#4: Reluctance from Executive Leadership
Despite achieving operational excellence in their production environment, executive management might still be hesitant to invest in a technology upgrade. Along with the first three concerns mentioned here, C-suite personnel might not share the same vision regarding the importance of being aligned with the current industry trends and the rapidly modernizing manufacturing landscape. The notion of "if it isn't broke, don't fix it" might be the prevailing sentiment among top management.
Data from a 2021 research study conducted by Accenture paints a vivid picture of the successes companies are enjoying from making a digital transformation. In a nutshell, the research revealed that the companies who are embracing smart manufacturing by modernizing their operations, such as using digital production records, are growing at five times the rate of those who continue to function in a manual, paper-based environment.
By making the investment in modern MES technology , enterprises:
For more details and case study examples of how companies successfully overcame blockers to a digital transformation to achieve operational excellence and improve their manufacturing performance, read the industry brief "4 Reasons to Adopt Digital Production Records Now."
---
References:
---