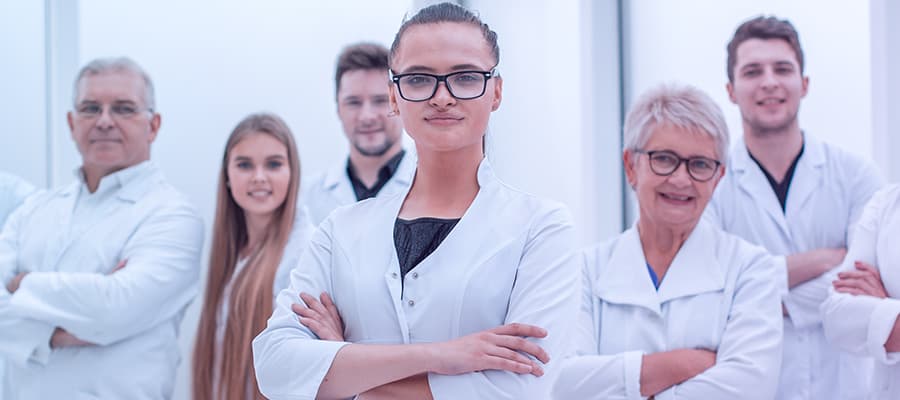 Socioeconomics, which focuses on the interdependencies between social processes and economic activity, is a hot topic which we have been seeing play out in real time over the past few years. The shifting dynamics throughout the COVID-19 pandemic have proven themselves to be a creative and intensive expression of survival. The current trends in the pharmaceutical industry show that pharma and the businesses that support it – suppliers, vendors, manufacturers, etc. – are still undergoing some large-scale transformations in the wake of the lockdowns we experienced at the pandemic peaks.
The Context: Supply Chain and Employment Disruptions
Social lockdowns translated directly into supply lockdowns, which are still rippling through the markets. Pharmaceutical companies continue to face big challenges trying to establish continuous supply chains. In a global survey conducted by McKinsey, nearly 50% of respondents cite sole sourcing of inputs as a critical vulnerability and 25% point to a lack of visibility into supplier risks.1 Companies are being forced to diversify and find alternative suppliers and localize supply where possible. Focusing on quality operations closest to home and developing an effective pharma supply chain strategy gives them the best odds of regaining control and redirecting operations toward more certain outcomes.
Staffing shortages and supply shortages go hand in hand. Pharmaceutical companies rely heavily on human talent to optimize their operations. 2021 saw unexpected levels of layoffs and walk-offs with the "great resignation."2 The resulting competitive labor market is giving workers leave to seek higher pay and better jobs. It's not just about compensation, however. According to some analysts, critical facets contributing to the ongoing "reshuffling" include purposeful work, flexibility, remote and hybrid work options, and so forth.3 With the self-employment siren song louder than ever, the next generation of workers is being selective about where and how they choose to spend their working hours.
The Shift: Pharmaceutical Industry Trends Toward Sustainability
Quality management trends have echoed these larger shifts in the wake of socioeconomic disruption. Pharma quality leaders are realizing the value of sustainable supply and employment practices – practices attempting to gain uninterrupted access to high-quality supplies and talent. Sustainability takes on a whole new meaning here, one that goes beyond ecology, even though this remains a top priority.
Sustainable Supply Practices
Mounting pressure from international organizations and increased dialogue surrounding localization4 and environmental responsibility5 highlight the industry's necessary shift to sustainability. One Stanford Graduate School of Business study explained how we have come to adopt linear models of consumption. These are inherently wasteful and unsustainable models.6 Finding circular value chains is key.
Several ways to implement the circular pharma supply chain strategy to insulate against disruptions, and the resulting loss of revenue and threat of permanent shutdowns, include:
Diversifying supply sourcing.
Maintaining consistent access to markets via supplier audits and regulatory compliance.
Reducing waste.
Maintaining lean inventory.
Integrating quality processes early in development and within manufacturing operations.
Making continuous improvements.
One of the beneficial aspects of adopting a circular value chain is that it is longer. With perpetuity comes additional revenue streams and access to new markets.7
Sustainable Employment Practices
Professionals are more mindful of burnout than ever.8 Companies that invest in employee development with engaging employee training that leads to advanced digital skill sets – such as artificial intelligence (AI) and cybersecurity – and offer flexible, cloud-based, and remote work environments stand to be more persuasive than companies that still rely on manual labor requirements. It's as though we have passed through an epoch over the past three years. Manual and paper-based processes are now about as relevant as dinosaur bones.
One economy watcher has noted that:
"The Fed cannot fix broken supply chains that result in shortages and inflationary high prices, nor can it create skilled workers to fill vital jobs … Quality and manufacturing professionals can, on the other hand, defeat inflation and grow the economy and associated taxable activity to generate a surplus with which to pay down rather than increase national debt."9
Here are three practical ways to lean into these trends:
As recently as May 2022, the U.S. Federal Drug Administration (FDA) has advised manufacturers directly to anticipate and prevent drug shortages by establishing redundancy risk management plans (RMPs).10 Attempts to diversify sourcing, establish new contractual relationships, complete effective supplier audits, pay more for reliable and quality materials, localize, and install risk redundancy plans are all examples of pharma supply chain strategies that will pay off. However, change always presents risks. An eQMS (electronic quality management system) that includes risk management is a vital way to stay connected with the partnerships you depend on as well as the risks they bring.

Efficient pharmaceutical process control preserves valuable material, human, and time resources. A purpose-built eQMS can support quality professionals who design and implement efficient quality processes. With an eQMS, they have continuous visibility into those processes and real-time access to the data needed to complete them. Integrating quality throughout the product life cycle with distributed quality methods, such as quality by design (QbD), is a quality management trend that is facilitated with digital, data-driven solutions.

Develop Talent and Not Just Products

Pharmaceutical Technology poses the question: Who's hiring who? The answer: In the pharmaceutical industry, AI hiring went up by 7%11 and cybersecurity hiring went up by 30%12 in the third quarter of 2022. However, only 38% of supply chain executives feel that their workforce is equipped to leverage emergent technology provided to them.13

Clearly, there is work to be done – and we need skilled professionals to do it. You can close skill gaps with an effective employee training tracking program that is fully integrated with an eQMS solution. Some advanced AI-enabled solutions can even predict when an employee will be late to meet training requirements.
Conclusion
For more information about resource resiliency and other trends in the pharmaceutical industry, download the free trend brief, "2023 Pharma Quality Trends: 4 Ways Pharma Quality is Changing" from MasterControl.
---
References:
"Four Ways Pharma Companies Can Make Their Supply Chains More Resilient," Tacy Foster, Parag Patel, and Kathrin Skiba, McKinsey, September 23, 2021.
"Is the great resignation a great rethink?," Paul Krugman, The Seattle Times, Nov. 7, 2021.
"When Will 'The Greatest Resignation' Become 'The Great Resettling'?," Christopher J. Dwyer, The Future of Work Exchange, April 25, 2022.
"Boulevard of Broken Dreams," Jorge Gonzalez Henrichsen, Quality Digest, July 14, 2022.
"Environmental Sustainability in Pharma," Pharmaceutical Technology, Accessed September 9, 2022.
"Replacing the 'Take-Make-Waste' Model With Sustainable Supply Chains," Seb Murray, Quality Digest, August 17, 2022.
Supra note 6.
"The 'Great Resignation' Is Finally Getting Companies to Take Burnout Seriously. Is It Enough?," Jamie Ducharme, TIME, October 14, 2021.
"Quality vs. Inflation and the Deficit," William A. Levinson, Quality Digest, August 22, 2022.
"Quality Management Maturity: Essential for Stable U.S. Supply Chains of Quality Pharmaceuticals," Whitepaper CDER, FDA, Current as of January 20, 2023.
"Who's hiring who? Hiring activity related to artificial intelligence increased by 7% in the pharmaceutical industry in Q3 2022," Pharmaceutical Technology, November 26, 2022.
"Who's hiring who? Hiring activity related to cybersecurity increased by 30% in the pharmaceutical industry in Q3 2022," Pharmaceutical Technology, November 26, 2022.
"Scaling AI in the supply chain to improve intelligence," Jaime Lagunas and Patricia Riedl, Accenture, July 15, 2022.
---