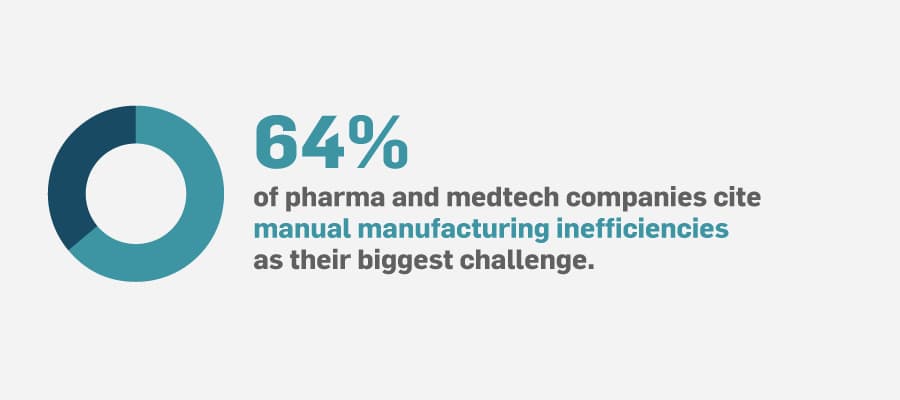 Breakthrough advancements in life sciences are impressive; however, they don't offer much value until they get manufactured into the products that improve patients' lives. A company's manufacturing production management processes directly impact its ability to get products out to patients in a timely manner. Using manual, paper-based manufacturing processes is inefficient, which often contributes to product delivery delays and setbacks.
The following are a few of the inefficiencies that create gaps in manufacturing processes when the company uses manual manufacturing production management:
Disconnected Manufacturing Production Systems

Disconnected systems, such as enterprise resource planning (ERP), supervisory control and data acquisition (SCADA), laboratory information management system (LIMS), quality management system (QMS), etc., put business units at risk of having gaps and competing priorities between departments.

Deploying a modern manufacturing execution system (MES) on some of the priority product lines helps improve production. But there is more value to fully unifying manufacturing by establishing real-time collaboration between all people, processes, and technology.

Missing or Unusable Data

Not being able to access and use all of your data can lead to uninformed decisions, guesswork, production setbacks, waste, etc.

Digitizing manufacturing processes ensures data is consistently entered the right way, at the right time. With actionable information just a click away, stakeholders no longer have to wait for critical data to come to them.

Preventable Human Errors in Manufacturing

Data entry errors lead to longer and more arduous document review cycles. Tracing and correcting errors takes time and staff away from critical tasks and significantly delays product deliveries.

Compliance Issues

Missing data, illegible report entries, human errors, etc., directly impact your compliance efforts. Falling out of compliance stalls production until you can resolve the issues.

A modern MES gives you greater visibility across all areas of manufacturing. You can ensure all data and documents are accounted for and accurate, making it easier to compile all the necessary materials to demonstrate compliance.
Digital Manufacturing Software
Introducing digitization in manufacturing removes the gaps that slow down production. A digital solution, such as a modern MES is how organizations improve throughput, ensure data integrity, track documentation, and reduce human error in manufacturing.
The State of Digitization in Pharma and Medtech
At MasterControl, we wanted to determine the extent of digital maturity at life sciences companies in their manufacturing production management processes. To gain some insight, we sat down with 152 of your industry peers worldwide in these focus areas:

To get a peek at the full outcome of the study, download "The State of Digital Maturity in Pharma and Medtech Manufacturing" report here.
We used a multitier digital maturity model to categorize the different levels of digitization within a company:
Manual – Primarily paper-based.
Digital – Some processes digitized.
Connected – MES/electronic batch record (EBR)/electronic device history record (eDHR) on every line.
Intelligent – Real-time, fully integrated operational processes.
Deploying digitization at all sites and on all product lines is an optimal manufacturing scenario. Our survey revealed that 57% said they have an MES/digital manufacturing software in place. However, it turns out that only 9% of those have it implemented at all sites and across all product lines.

This means a large percentage of companies developing regulated products are still putting pen to paper in manufacturing production management. This type of environment has always been prone to gaps in manufacturing processes and production delays. Inefficient processes take a toll on a company's ability to meet key performance indicators (KPIs) and business goals.


You can learn more of the benefits of digitization in manufacturing by downloading the report.
Charting a Course: Digitization Is the Future of Pharma and Medtech Manufacturing
Digitization is here. Pharmaceutical and medtech companies are rapidly moving through the tiers toward digital maturity — strengthening their competitive edge. If you are not modernizing your manufacturing production and operations, you will fall behind and it will be extremely difficult to catch up and remain relevant and competitive in your industry.
Download the report to see where your industry peers are on the digital maturity spectrum. See how companies are adopting digitization in manufacturing and how they are making the transition fast and easy.