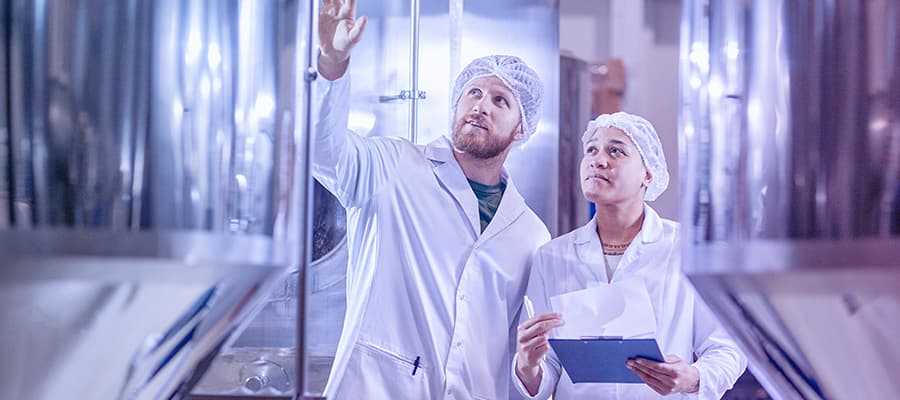 Audits are a pain. If you can show me one person who likes them, they're joking … or maybe they work for the U.S. Food and Drug Administration (FDA). Conducting supplier quality audits as a manufacturer can feel especially burdensome, invasive, and time-consuming. However, there are plenty of legitimate reasons to conduct a supplier quality audit. Some of those reasons are in keeping with manufacturing best practices while others unfortunately happen when a problem comes up.
Your eQMS requires it.
A supplier is new.
The supplier is critical to supply chain reliability.
The supplier isn't performing well.
One of the biggest benefits of conducting supplier quality audits is visibility into supplier performance. According to surveys by LNS Research, manufacturers with poor visibility into supplier performance have a median supplier defect rate more than double the rest of the population. Supplier quality auditing is essential to help you gain visibility into whether a supplier's products and processes are adhering to a defined quality standard. Supplier quality auditing is essential to help you gain visibility into whether a supplier's products and processes are adhering to a defined quality standard.
Check out this MasterControl industry brief for more on how to successfully manage suppliers.
Maybe you're conducting a supplier quality audit wondering if you're even going about it the right way. There is no all-purpose methodology for how to do a supplier quality audit. The breadth and depth of an audit can vary depending on the product or process. However, according to Terrance Holbrook, MasterControl's principal product management director with more than 25 years of experience in manufacturing, there are a few commonly overlooked steps manufacturers can take to elevate how they conduct supplier quality audits. Below are five commonly overlooked steps you can take before and during the supplier quality audit process that will make the experience better for everyone.
5 Steps to a Better Supplier Quality Audit
This is by no means a complete list of all the tactics you can take to improve your supplier quality audit. However, the benefit these in particular are often overlooked during the audit process.
Conduct pre-supplier quality audit research.
Review the supplier's reputation online.
Take a hard look at customer complaints.
Know if a supplier is outsourcing.
Keep the supplier quality audit on track.
1. Conduct pre- supplier quality audit research.
A supplier quality audit presents an opportunity to strengthen the partnership between you and your supplier. Before setting foot on the audit site, review both parties' expectations and responsibilities as laid out in the quality agreement and prepare a prioritized checklist of items to review based on the material, component, or service supplied.
Additional areas of pre-audit research to consider:
Past audit reports.
Company history using the supplier's product.
Current product specification.
Whether the product has ever failed.
Alternative qualified manufacturers.
Interviews with in-house personnel about the supplier and product.
Connected quality audit software can make this step easier by enabling you to collaborate with your supplier via the internet to receive, review, and approve pre-audit documentation in one place, regardless of document type. Quality audit software can also provide an internal-facing location for all your approved vendor list (AVL) materials. By maintaining a central hub of vendor information, pre-audit research becomes that much easier next time.
2. Review the supplier's reputation online.
Along with conventional supplier quality audit preparation, check out the supplier's online presence. Look through the supplier's own website and social media profiles. Check review sites like Consumer Reports and the Better Business Bureau. What are other customers and users saying about the company and its products? Likewise, search the FDA website for information relevant to the suppliers' compliance with Current Good Manufacturing Practice (CGMP) regulations, including whether the supplier is the subject of an FDA warning letter, import alert, or recall.
3. Take a hard look at customer complaints.
Don't underestimate customer complaints. Capturing and investigating issues received via this channel is important, as complaints are a crucial source of information about the performance and quality of products under actual usage. Look for potential patterns to determine whether other clients have had similar complaints about the product you currently purchase as well as the supplier's product line outside your current purchases. Connected quality audit software can help you and your supplier collect and maintain any documentation related to customer complaints in one accessible place.
4. Know if a supplier is outsourcing.
It's important to know if your supplier is outsourcing parts of its process and whether it has quality agreements with its own suppliers. If possible, ask to review the supplier's audit findings of its own suppliers. Or, if the supplier doesn't allow that, ask to see the supplier's incoming inspection of subcontracted materials, as well as any other documentation that can prove the supplier is holding its vendors to quality standards and receiving quality items. Clear expectations and the right quality audit software not only helps you conduct your supplier quality audit, but also extend quality standards and expectations across the ecosystem of suppliers.
Stay focused on your objectives. If the supplier is being evasive during an inspection, or isn't providing certain quality-related documents, it may be a conscious attempt to hide quality issues. Once on-site, if the supplier seems to be steering the supplier quality audit team down certain paths during a tour, it may be to distract from process problems like non-conformances, deviations, or failed lots. It's important to review processes and documents during an audit. However, it's equally important to actively listen to the supplier, be aware, and understand your goals, so you can keep things on track.
When done successfully, a supplier quality audit can help you identify, address, and even prevent problems in a supplier's product quality or processes before the problems spread, ensuring the supplier consistently meets quality expectations. By being prepared with the right tactics and connected quality audit software, you can make the entire experience more productive. It may even feel less like an audit.
To learn more about how to audit suppliers to ensure supplier quality, check out Terrance Holbrook's "5 Tips for Conducting a Supplier Audit" published in Pharmaceutical Manufacturing magazine. Also, check out MasterControl's industry brief "How to Successfully Manage Your Supplier and Ensure Product Safety and Compliance." Or visit MasterControl's quality audit software solutions page to learn more.