4 Considerations for Manufacturers When Applying Digitization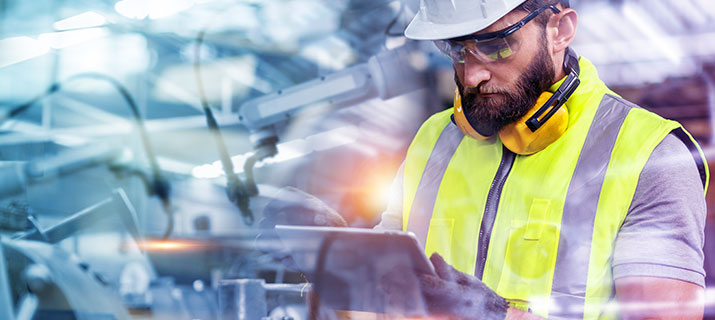 The movement toward digitization in manufacturing isn't new, but the events of 2020 forced many organizations to adopt digital solutions quicker than previously planned. According to a McKinsey survey of global executives, the pandemic has accelerated the digitization of supply chain interactions and of internal operations by three to four years. Some of the largest shifts included a 54% increase in cloud migration and a 50% increase in use of advanced technologies – such as automation, artificial intelligence (AI), and advanced analytics – in operations. Meanwhile, the share of digitally enabled products in their portfolios has accelerated by seven years.1
The McKinsey findings indicate that the companies that responded successfully to the crisis leveraged a range of technology capabilities that others didn't, notably "the use of more advanced technologies and speed in experimenting and innovating."
Digitally mature companies not only outperformed the competition during the global pandemic, but are also forecast to continue accelerating ahead of their peers in the future. In a separate report, McKinsey found that a select group of industry-leading manufacturers are using Industry 4.0 capabilities to develop new or enhanced ways of operating their businesses.2 The benefits these companies have recorded include:
30%-50% reduction of machine downtime.
15%-30% improvement in labor productivity.
10%-30% increase in throughput.
10%-20% decrease in the cost of quality.
And these developments reveal important benefits that are harder to quantify: increased flexibility to meet customer demand, faster speed to market and better integration within the supply chain.
The digital changes that companies made over the past year are likely to remain after the crisis. More than 80% of companies now plan to accelerate digital transformation, seeing such efforts as a strategic necessity, according to Boston Consulting Group surveys.3
4 Areas to Apply Digitization
As manufacturers look for ways to leverage technology to improve operations, they should consider at the following four ways to apply digitization:
#1: Cloud Adoption – Move toward integrated cloud technologies. The cloud harmonizes different tech platforms, breaks down silos, simplifies data management and access, and improves real-time communication and collaboration. The cloud's scalable environment enables manufacturers to deploy data-intensive applications for more thorough, accurate, and real-time data analytics.
#2: Data Intelligence – Gain access to new, previously unavailable datasets in digitized production records for business intelligence. Capture, share, and make use of real-time production data across systems, departments, and sites. Liberate data from silos and accelerate advanced analytics applications, such as AI and machine learning (ML). Management can make data-driven decisions and provide employees with the data and tools that enable them to make quick, well-informed choices on the production line.
#3: Configurable Applications – Leverage flexible, configurable software that extends your digital edge beyond core systems. Most traditional manufacturing systems, such as an manufacturing execution system (MES), are rigid and require time-intensive changes. A configurable solution like MasterControl Manufacturing Excellence lets manufacturers quickly leverage tailored applications to augment core systems with new functionality.
#4: Connected Platforms – Shifting from hardened integrations to modular interfaces enables agility and facilitates connected data intelligence. Systems connected by application programming interface (API) or integration platform as a service (iPaaS) solutions offer a broader ecosystem of integration, which helps improve data integrity between systems and streamline production while getting the most value from systems you already own.
Conclusion
Acceleration of digitization has reached a critical tipping point and will continue to evolve. As manufacturers find new ways to leverage technology to streamline production, improve operations, and stay competitive, it will be critical that those technologies provide employees with the data and tools that enable them to focus on doing their work better rather than on managing paperwork.
---
Resources
---