Utilizing Quality Management Software Across the Product Lifecycle Is Key
A QMS that is automated and connects all departments is essential for highly regulated companies, or those that must conform to ISO quality standards. A QMS or a total quality management (TQM) system connects every department in each phase of the product lifecycle from concept to commercialization and beyond. This gives each department a collaborative environment in which to provide feedback throughout the product lifecycle. Automating these core quality processes ensures rapid responses to inputs needed from other departments. Designing quality into products as opposed to forcing quality assurance (QA) to bear the burden of the responsibility helps everyone (engineering, regulatory, QA, manufacturing, sales and marketing) win.
Whether upgrading a paper-based or hybrid quality system to improve accuracy, efficiency, and audit-readiness, or consolidating multiple legacy and vendor systems to a single unified quality platform, MasterControl has a quality suite designed to meet these unique needs.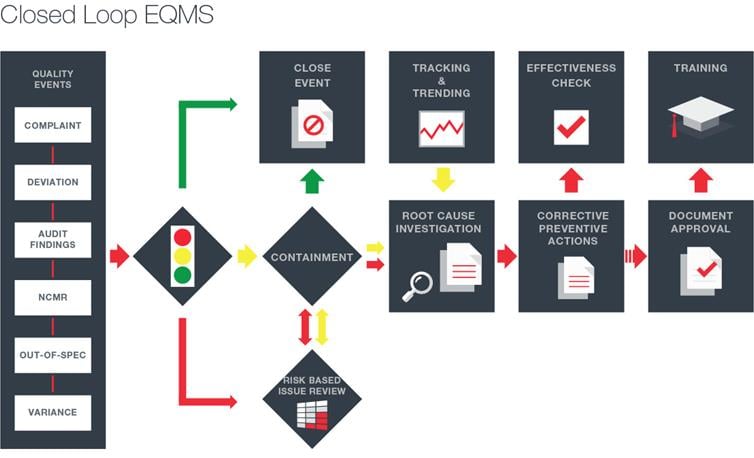 How Can the MasterControl QMS Benefit You?
MasterControl has been delivering quality excellence solutions for more than 25 years to meet the needs of highly regulated industries and to embrace new levels of digitization and automation that require more dynamic, connected and scalable quality practices.
Built on the MasterControl Platform™, the MasterControl Quality Excellence™ solution consists of configurable, easy-to-use, and connected applications for automating, streamlining, and effectively managing document control, change control, training control, audits, corrective/preventive action (CAPA), deviations, and other documents- and forms-based quality and business processes under a single web-based platform. More than 1,000 companies worldwide rely on MasterControl to facilitate compliance with FDA and other global regulations, such as 21 CFR Parts 11, 210-211, 820, 606; GLP; GCP; GMP; and ISO quality standards, such as ISO 9000, ISO 13485, ISO 14000, ISO/TS16949.
MasterControl Quality Suites
The MasterControl Quality Excellence solution is comprised of three flexible quality suites that are scalable to fit the needs of companies of every size. Each MasterControl Quality Suite combines configurable products, process applications, validation services and platform functionality to provide unmatched performance and value.
MasterControl Quality Suites consist of combinations of the following integrated quality processes:
Automated Document and Change Control Management
Automate the tasking, routing, scheduling, follow-up, tracking, escalations, review, and approval of all documents-based processes.
Provide a single repository for all documentation, which simplifies search and retrieval.
Guarantee automatic revision control to ensure that only the most current version of a document is available. As new revisions go into effect, earlier versions are suppressed, allowing for easy tracking of controlled copies and rogue document lockdown.
Streamline change procedures for faster turnaround and integrate change control with related processes to form a closed-loop solution.
Training and Exams Competency Management
Connect trainees, trainers, verifiers, and training coordinators, regardless of geography.
Effectively and easily ensure—and prove to regulatory agencies—that all employees are competent according to established documentation.
Automate the routing, tracking, and follow-up of training tasks as well as the grading of online exams. Electronically notify users of new training tasks and alert verifiers when training is complete.
Incidents and Corrective Action Management
Integrate the organization's CAPA program with all quality subsystems, including customer complaints, audits, and change control, and track incidents that could potentially escalate into corrective actions.
Automate the route flow, notification, delivery, escalation, and approval of CAPAs, and securely store all correlated documentation.
Launch CAPA forms directly from other forms, such as a customer complaint form, thereby streamlining CAPA processes and eliminating data entry errors.
Audit and Preventative Action Management
Streamline and automate the planning, scheduling, and execution of audits from beginning to end.
Simplify audit reporting processes, and create customizable template-based audit reports in rich-text format as well as online and offline checklists with audit scoring.
Effectively manage findings, responses, and related preventative actions, and automatically generate audit plans based on desired frequency and risk, and update them with a drag-and-drop calendar interface.
Risk and Mitigation Management
Unify all risk-related activities and documentation with a single, centralized repository.
Capture a complete and accurate picture of the risk landscape across product lines, business processes, and business units, which can help preclude reputation damage or regulatory action from recalls.
Ensure that risk tolerance thresholds are employed and followed for all risk-related activities across the enterprise using scheduled reporting and full search capabilities to provide insight into – and easy access to – risk assessment and mitigation activities.
Efficient Design and Specifications Management
Connect teams, data, and processes in a centralized system that automates the collaboration, routing, follow-up, escalation, and approval of important design control documentation to ensure objectives are met and tasks are completed in a timely manner.
Maintain up-to-date documentation so files can be accessed quickly for design reviews, regulatory inspections, etc. Automatic document revision control ensures that only the current version of a document is available for use.
Track and review design documents by status or history.
End-To-End Product Lifecycle Excellence
MasterControl is committed to driving digital process excellence at every stage of the product lifecycle – from concept to commercialization. Quality is the ultimate business differentiator, which is why we continue to work with customers to replace manual, paper-based processes with solutions that help them bring life-changing products and treatments to market faster while ensuring quality and compliance.
For More Information on MasterControl's Quality Management and Product Lifecycle Excellence Solutions
Please feel free to contact a MasterControl representative about questions you may have about quality management software systems.