Trend Analysis on Quality Management: Improving Decision-Making With Timely Data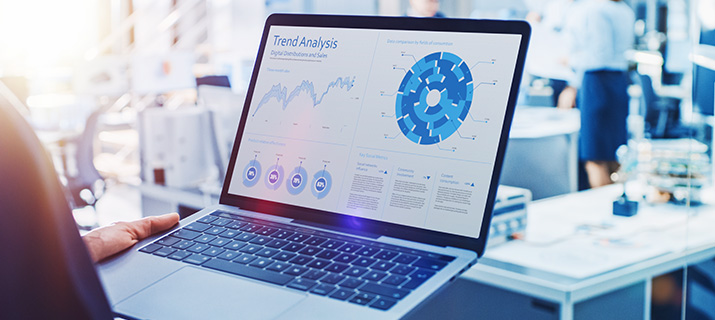 To make changes that stimulate quality improvements, you need good data. But with the endless streams of data generated and processed by the quality department (even if it's just a department of one), accurate, current, and meaningful data can be hard to collate and contextualize. Making real, positive change may require you to rethink your approach to trend analysis in quality management. You can get better results from your quality trend analysis efforts by first asking three important questions.
What Is the Primary Objective of Trend Analysis in Quality Management?
The ultimate purpose of trend analysis in quality management is to identify, evaluate, and eliminate any issue that is having a negative effect on product quality. Quality trend analysis is a particularly useful monitoring mechanism when changes are made to processes, especially those related to manufacturing. It is the means of determining when a corrective action/preventive action (CAPA) should be launched in response to audit findings, customer complaints, deviations, equipment service/maintenance reports, nonconformances, etc.
If the organization uses a purpose-built digital quality management system (QMS), these types of quality events can be set to automatically trigger a CAPA whenever predetermined risk thresholds are exceeded, which makes it much easier to determine if and what further actions may be required. Since any risk thresholds that are established and the decision-making that supports them are specific to the organization's regulatory and unique business requirements, they must always be documented for audit purposes.
What Methods Are Used in Quality Trend Analysis?
For most life sciences companies, there are two main quality trend analysis methods:
Performance trending.
Process trending.
Both trending methods are most commonly expressed in various types of charts. The charts used for trend analysis in quality management usually illustrate data points such as:
Threshold limits.
Alert limits.
Action limits.
The wide variety of quality trend analysis charts life sciences manufacturers use to visualize quality control activities typically fall under two general classifications:
Attributes charts:

Anything that can be quantified or rated with a pass/fail grade can be expressed in an attributes chart.

Variables charts:

Any quality aspect that is measurable (i.e., length, temperature, weight, etc.) can be expressed in a variables chart.
The metrics you choose to track in your quality trend analysis charts should target trends in data movement. These metrics and the limits you set as thresholds should all be geared toward meeting three key criteria:
Applicable regulatory requirements.
Industry best practices.
Your organization's risk acceptance thresholds.
Most importantly, though, the data points you analyze and the methodologies you use to analyze them have to be consistent if you expect the trends that emerge from your quality trend analysis to be genuine, according to American Society of Quality (ASQ) fellow and Quality Systems Compliance Managing Principal Consultant Mark Durivage.
"There is no one perfect way to analyze data trends. However, for a trending program to be successful, consistency is important," Durivage said. "Pick a method and stick with it." 1
Can Quality Trend Analysis Be Performed With Real-Time Data?
Quality trend analysis methods and charts are fantastic for visualizing shifts and the state of quality in your organization. But the information they express is only valuable if it is timely. Consider the following type of situation that you're likely to have experienced before: You're tasked with creating a report on the current state of some aspect of quality for an upcoming management review. You work for days or weeks to extract and aggregate accurate data that the C-suite will find informative and valuable. In the time it takes for your hard work to be reviewed and approved by your supervisor (and possibly your supervisor's supervisor) and then collated into a digestible format, the information has become outdated and no longer reflects the current state of quality in your organization.
The remedy for outdated quality trend analysis data is a modern enterprise quality management system (EQMS). With its modern, unified architecture and integrated data management capabilities, the MasterControl Quality Excellence EQMS offers a single source of truth for real-time quality data. The intelligent platform's integrated business intelligence (BI) tools enhance the value of your data and provide users with actionable insights, simplified data exploration, and powerful visualizations and reports. MasterControl's interactive reports and dashboards don't just give you the ability to visualize your data – they let you inspect, explore, and make meaning of it with an array of filtering and drill-down capabilities that provide detailed visibility into supporting and correlated information.
Learn more about the many ways MasterControl – the world's most trusted EQMS – can optimize your quality trend analysis capabilities and help you unlock access to timely and accurate quality data.
---
References:
"Using Trending As A Tool For Risk-Based Thinking," by Mark Durivage, Pharmaceutical Online, Sept. 8, 2017.
---