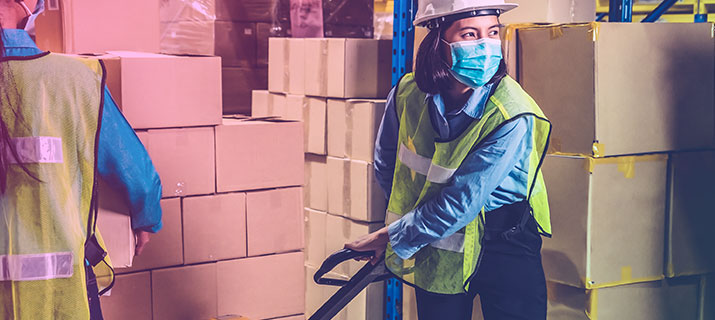 You might have seen the memes that point out 2022 is pronounced the same way as "2020, too." It's humorous, but also painfully on point. No one wants a repeat of 2020, but the pandemic is reminiscent of a certain Journey song — it goes on, and on, and on, and on. Specifically, problems with supply chain management are giving medical device manufacturers a bad case of déjà vu all over again.
It pays to have backup plans, and the supply chain is no different. Constantly fluctuating COVID-19 protocols and transportation issues continue to plague the industry. It's impractical to think that the medical device supply chain can be completely domestic, but there are steps that can be taken to deal with these problems.
Federal Supply Chain Backup
The U.S. Food and Drug Administration (FDA) is proposing their own way to help with supply chain management. For fiscal year 2022, the agency asked for an additional $21.6 million to fund a Resilient Supply Chain and Shortages Prevention Program (RSCSPP) to be part of the Center for Devices and Radiological Health (CDHR). Their focus is on preventive measures, identifying potential shortages, surveillance, and rapid intervention. (1)
These steps are easier for a regulatory body than for a medical device company, but that focus can be broken down into smaller steps that medical device companies can take.
Finding and Qualifying New Suppliers
Supply chain backup requires supplier backup. Ideally, a medical device company could have several suppliers of the same or similar components spread across multiple locations. If the manufacturer is cut off from one supplier, another could be used. Trying to find new suppliers in the middle of the pandemic is difficult, but not impossible. Technology allows suppliers to be qualified remotely.
Ubiquitous Zoom calls and electronic file sharing allow a limited, but useful look into the quality processes of a potential supplier. The supplier's quality management system (QMS) is just as important as the medical device company's QMS. It will be much easier to align quality systems if both companies are using an electronic QMS, if only for the simplified manner of sharing documentation.
Supply Chain Risk Management
Risk management is an integral part of compliance in the medical device supply chain. Standards from the International Organization for Standardization (ISO) make this clear. ISO 14971:2019 puts the emphasis on patient safety and product quality, and removes the previously used as low as reasonably practicable (ALARP) approach. This requires medical device companies to evaluate and mitigate every risk, including those affecting the supply chain.
McKinsey & Company recommends that medical device companies build resilient supply chains. They define a resilient supply chain as one with "end-to-end visibility and a robust understanding of where risks are, their potential impact, and the mechanisms to manage or mitigate them." (2) That level of supply chain management is impossible to achieve without digitized systems. Understanding potential impact and how to mitigate risk is difficult without advanced analytics.
Advanced Supply Chain Analytics
It's unlikely that even the most advanced algorithms would have foreseen the COVID-19 pandemic and all its consequences. There are occasionally catastrophic events that can't be predicted. However, analytics are still critical when it comes to supply chain backup. Not every disruptive event is on the same level as the pandemic and some are quite precedented, meaning historical data is critical in uncovering what is likely to happen, and what medical device companies should do to combat it.
Predictive analytics indicate how factors will affect the medical device supply chain. This might not be "backup" per se, but knowing what is likely to happen helps combat risk. Prescriptive analytics can be more helpful because they tell medical device companies how to fix those problems. A report from Thomason Reuters describes the benefits of prescriptive analytics: "This not only provides decision-makers with multiple options on how to address the issue but also the hypothetical impact of each option." (3)
Call for Backup
Governments might be to ensure the medical device supply chain doesn't fail, but individual companies need to prepare as well. They can't necessarily predict the future, but they can identify and mitigate risks to their supply chain, starting with having multiple potential suppliers to tap into in case one is inaccessible. Further preparation can be found in investing in software solutions that provide ways to collect all of a company's data and analyze it for better decision-making.
---
Sources:
"FDA's Budget: Medical Device Supply Chain and Shortages Prevention Program," U.S. Food and Drug Administration, July 21, 2021.
"The resilience imperative for medtech supply chains," Mohammad Behnam, Tacy Foster, Tony Gambell, and Shyam Karunakaran, McKinsey & Company, Dec. 18, 2020.
"Data analytics is transforming supply chain management," Keith Haurie, Thomson Reuters, Aug. 12, 2020.
---