Quality Assurance Software Systems Facilitate Regulatory Compliance
In regulated organizations, quality assurance document control is essential to achieving quality and compliance. To control quality, you must control quality documentation, such as SOPs, policies, quality manuals, CAD files, and engineering change orders. QA document control facilitates organizing these vital quality processes.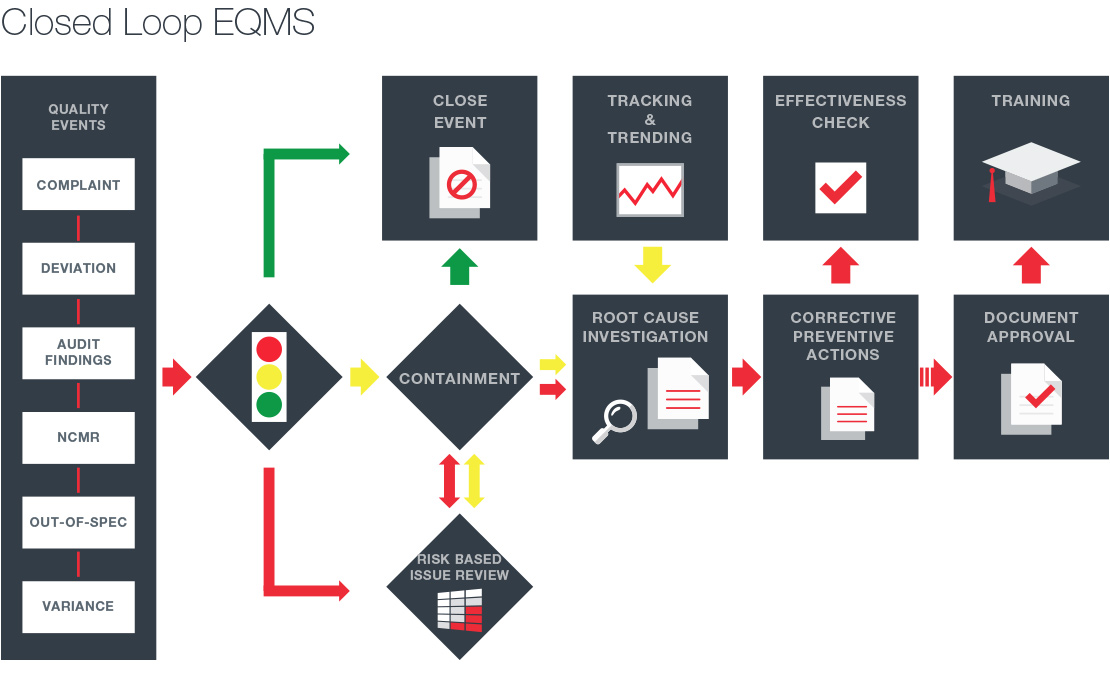 No Quality Assurance without Document Control
A regulated business without a document control system is an invitation to chaos and FDA inspection. ISO quality standards and FDA Current Good Manufacturing Practices (CGMP) presume that both the process and documentation that directs company processes follows pre-approved methods and that any change to these methods is restricted to authorized personnel and tracked for future review. All FDA-regulated and ISO-certified companies are mandated to have a document change control system.
Quality assurance document control is achieved by using a document management system. Document management capabilities boost efficiency and ensure compliance by eliminating labor-intensive tasks like physically routing documents for approval, storage and distribution.
Format agnostic - The system must be able to control any document regardless of the application used to create (e.g, Word processing, spreadsheets, CAD, video, audio...)
Document lifecycle management - Having a quality assurance document control process means documents must be managed through their lifecycle statuses of Draft, Released and Archived. (See Figure 2) Lifecycles can be based on document type and need to automatically adjust document security based on lifecycle status.
Audit trail history / record archiving - A secure, time-stamped audit trail of all changes made to any record should be maintained and accessible to the appropriate users and departments. All of this information needs to be automatically captured and secured.Reporting functionality would track past versions, metadata and approval history of the record, from the time it was created until the present.
Centralized, Secure Repository - Documents should be securely stored to ensure only authorized access, while making it easy to protect against disaster.
Document cross-linking - In manufacturing environments, QA documents complement one another. For example, a form may be associated to a standard operating procedure (SOP), or an equipment manual associated with a maintenance drawing, etc. A document control system should allow document linking to provide users the relevant information needed to do their job.
How MasterControl's Quality Assurance Document Control Software can Benefit You
Document control and document management are essential to maintaining quality and compliance. To effectively achieve quality assurance document control, an organization must control quality documentation, such as SOPs, policies, quality manuals, CAD files, engineering change orders, etc. Here's how MasterControl Documents™ handles some of the major challenges that companies face in managing and controlling documents.
Efficient quality assurance document control system MasterControl's Document Control Software Systems automates routing, delivery, escalation, and approval of documents. It handles all kinds of documents, from CAD drawings to spreadsheets, regardless of the originating software. MasterControl also provides electronic centralized, secure storage that makes search and retrieval or documents easy during inspections and audits.
Automated Document Revision Control MasterControl's document control software systems provide automatic revision control to ensure that only the current version of a document is available. This is yet another fact of quality assurance document control. Changes can be initiated and approved electronically. MasterControl automates routing, delivery, escalation, and approval of documents. MasterControl Documents allows authorized users to access the document needed at any time, day or night.
Enhanced Document Lifecycle MasterControl allows for multiple lifecycle statuses, timed lifecycle movement, and flexible approval rules - all inherent in QA document control. Companies are able to build their product lifecycle within the system, simplifing routes and workflows.
Connected Document Control Processes MasterControl Document Control Software Systems connect all quality subsystems such as CAPA, change management, audit, and training. For example, any CAPA that results in a document change will automatically invoke training once the change is approved. MasterControl is Web-based so documents are accessible to all authorized users from virtually anywhere.
For More Information on Quality Assurance Document Control
To learn more about how Quality Assurance Document Control can facilitate the work of QA and other departments, please feel free to contact a MasterControl representative.